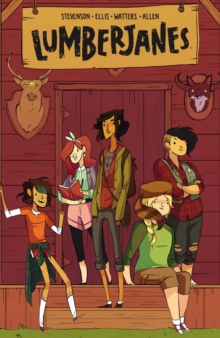 Lumberjanes : Beware the Kitten Holy v.1
Paperback
Description
Friendship to the max! Jo, April, Mal, Molly and Ripley are five best pals determined to have an awesome summer together...and they're not gonna let any insane quest or an array of supernatural critters get in their way!
Not only is it the second title launching in our new BOOM!
Box imprint but LUMBERJANES is one of those punk rock, love-everything-about-it stories that appeals to fans of basically all excellent things.
It's Buffy the Vampire Slayer meets Gravity Falls and features five butt-kicking, rad teenage girls wailing on monsters and solving a mystery with the whole world at stake. And with the talent of acclaimed cartoonist Noelle Stevenson, talented newcomer Grace Ellis writing, and Brooke Allen on art, this is going to be a spectacular series that you won't want to miss.
Collects Lumberjanes #1-#4.
Information
Format: Paperback
Pages: 128 pages
Publisher: Boom! Studios
Publication Date: 07/04/2015
Category: Comics and Graphic Novels
ISBN: 9781608866878
Free Home Delivery
on all orders
Pick up orders
from local bookshops
Reviews
Showing 1 - 5 of 12 reviews.
Previous | Next
Review by TPauSilver
27/08/2015
The Lumberjanes are a kind of girl scout organisation and Lumberjanes features five girls on their Lumberjane summer camp, with their camp mentor of course. Only things aren't as they seem in the woods. Something strange is happening, something supernatural. Lumberjanes is a beautiful book with a great cast of diverse and believable female characters and a fun story. My only criticism would be that sometimes, as all the panels are so strongly coloured, it makes the book look quite busy and it can be hard to pick up on important/interesting background detail.
Review by ecataldi
27/08/2015
Oh my, I am soo glad I picked up this bad boy! It was even better than I anticipated!! You will want all your friends to read it so that you can talk about it and try to be as cool as the lumberjanes. Seriously, I want to be on their level. While at a summer camp for "Hardcore Lady-Types" five campers discover something mysterious going on in the wilderness surrounding their cabins. Three eyed foxes, yetis, a river monster, and rumors of a "Holy Kitten" keep the lumberjanes busy and drives their camp counselor up a wall. Hilarious and over the top, this comic amused me to no end. I was sold after the Holy Kitten, but it continued to get better after that, with sayings like, "What in the Joan Jett!?" minor hinting towards gay crushes, mythical creatures, and random rantings, this book has a little something for everyone. This is definitely one that I will buy and will continue to keep up with the series. Soo damn good!
Review by jen.e.moore
27/08/2015
Oh man, this is so great. I love how they swear by famous women. (And "what the junk," which is pretty great, too.) I love all the three-eyed monsters. I love that Ripley a) is named Ripley and b) is a pre-adolescent female Wolverine, Fastball Special and all. I love Jen and Rosie and the creepy boys' camp and I cannot wait for more of this to exist.
Review by alanna1122
27/08/2015
This comic series was highly recommended on a few book podcasts I listen to - so even though I don't usually read comics - I decided to give it a try when I saw this in the bookstore. I was really underwhelmed. I think I am definitely maybe not a comic person? I just didn't find the storyline smart or clever or engaging. The art was fine but I was left wondering what I was missing. Yes, nice to have a gang of girls front and center but beyond that it really didn't offer much to me.
Review by melissarochelle
27/01/2016
Read on July 21, 2015Five young ladies discover that there's more happening at their summer camp than they ever could have imagined. A bear woman, evil foxes, yetis, river monsters and more await these Lumberjanes around every tree. I'm curious to see what's going on at the neighboring boys camp...looks like trouble.