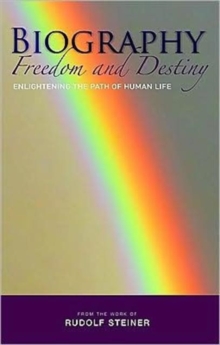 Biography: Freedom and Destiny : Enlightening the Path of Human Life
Paperback / softback
Description
The path of an individual human life - our biography - is something of a mystery.
Despite the abundance of published biographies and autobiographies of celebrities and historical figures, the scientific study of human biography remains in its infancy, with little understanding of the inherent laws in the path of an individual's life.
Yet as Rudolf Steiner shows here, every biography, regardless of the individual's fame, perceived importance or outer success, is ruled by archetypal influences, patterns and laws. This broad-ranging anthology addresses some critical and as yet unanswered questions: What effects do education - and in particular contrasting education methods - have on later life?
How do the various periods of life relate to each other?
Do the effects of events on the individual become evident immediately, or is their true impact delayed - perhaps by decades?
To what extent can an individual shape the stages of his or her biography?
How much freedom of choice do we have, and how much of life is predetermined?Out of the higher knowledge Rudolf Steiner acquired from his spiritual research, he described the human individuality as a being with a continuing existence - before birth and beyond death.
This eternal being experiences many varied conditions and situations, the effects of which are observable in our biography.
This book addresses these and other issues such as freedom and destiny, the effects of heredity, illness, and the impact of education, offering answers based on a profound knowledge of the human being. Compiled by E. Fucke (Selected lectures, various GAs)
Information
Format: Paperback / softback
Pages: 264 pages
Publisher: Rudolf Steiner Press
Publication Date: 12/10/2009
Category: Theosophy & Anthroposophy
ISBN: 9781855842250
Free Home Delivery
on all orders
Pick up orders
from local bookshops