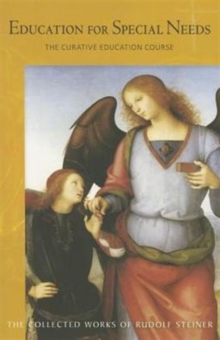 Education for Special Needs : The Curative Education Course
Paperback
Description
'Essentially we do not really have the right to talk about normality or abnormality in a child's inner life, nor indeed in the inner life of human beings altogether...One does not gain much from such labelling, and the first thing to happen should be that the physician or the teacher rejects such an assessment, and goes further than saying that something is clever or sensible according to the way people are habitually thinking.' - Rudolf Steiner Speaking in 1924, when general attitudes to people with special needs were far from enlightened, Rudolf Steiner gave this seminal course of lectures to a small group of teachers and doctors as a fundamental basis for their future work.
In the cultural context of the time, regressive ideas such as Social Darwinism and Eugenics were not only tolerated but popular (some 15 years after these lectures were delivered, the Nazis were to initiate their so-called 'euthanasia' programme).
In contrast, Steiner - who as a young man had successfully tutored a boy with special needs - was devoted to the progressive task of special education and, in the words of one of those present, '...gave the course with pleasure and satisfaction'. In the twelve lectures, Rudolf Steiner describes polarities of illness and derives courses of treatment from a comprehensive analysis.
He considers many individual cases in detail and gives indications on therapeutic exercises, diet and medicine.
The 'I' (or self), he states, relates directly to the physical body, and spirit and soul need to be taken into consideration when making diagnoses.
Throughout the course Steiner gives valuable advice regarding the educator's own development, emphasizing the need for enthusiasm, humour and courage. As with Steiner's lectures on agriculture, which stimulated the birth of the worldwide biodynamic movement, this single course has had a huge international impact, inspiring the founding of hundreds of schools and communities for people with special needs - encompassing both the Camphill and Steiner special education movements.
Revolutionary in its approach, the far-reaching perspectives of these lectures are a living source of inspiration to both professionals in the field and parents and others seeking spiritual insight. This new edition features a fresh translation, introductory material, notes, colour plates and an index. 12 lectures, Dornach, Jun. - Jul. 1924, CW 317
Information
Format: Paperback
Pages: 216 pages, 15 COLOUR PLATES
Publisher: Rudolf Steiner Press
Publication Date: 21/11/2014
Category: Theosophy & Anthroposophy
ISBN: 9781855844094
Free Home Delivery
on all orders
Pick up orders
from local bookshops