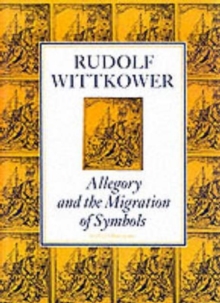 Allegory and the Migration of Symbols : The Collected Essays of Rudolf Wittkower
Paperback / softback
Description
Rudolf Wittkower deplored specialiation. For him, it was the fact that art communicated experience which made it a rewarding study, and nothing fascinated him more than the way in which one culture picked up and transformed the images of another.
This volume draws together fourteen essays written over a thirty-three-year period in which he ranges far and wide in search of these "migrating" symbols, trying to penetrate the meaning that artists have given them or that they have unconsciously conveyed. The esays - each with its original illustrations and notes - fall into two main groups.
The first traces instances where oriental imagery has entered the art of the West - specifically the strange images of Eagle and Serpent, and the long catalogue of monsters which the ancient and medieval worlds took so completely for granted and which held meanings for them not always apparent to ourselves. The second looks at the sources of some favourite allegorical motifs of the Renaissance - Chance, Time, Resurrection, Patience, Death, Virtue, "Grammatica" - and shows how they keep their identity throughout revolutions of taste and style.
One essay explores an intriguing byway of art history, the 15th century's claim to have rediscovered hieroglyphics.
Another finds a consistency and purpose in El Greco's apparently mechanical repitition of the same gestures in painting after painting.
Finally Professor Wittkower faces the basic question of why a picture - whether by Leonardo or a child of three - can mean anything at all.
Information
Format: Paperback / softback
Pages: 224 pages, 251 Illustrations, black and white
Publisher: Thames & Hudson Ltd
Publication Date: 23/02/1987
Category: Theory of art
ISBN: 9780500274705
Free Home Delivery
on all orders
Pick up orders
from local bookshops