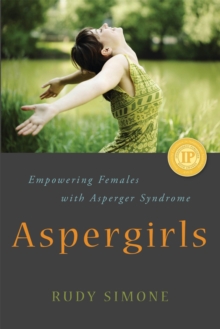 Aspergirls : Empowering Females with Asperger Syndrome
Paperback
Description
*Gold Medal Winner in the Sexuality / Relationships Category of the 2011 IPPY Awards** Honorary Mention in the 2010 BOTYA Awards Women's Issues Category *Girls with Asperger's Syndrome are less frequently diagnosed than boys, and even once symptoms have been recognised, help is often not readily available.
The image of coping well presented by AS females of any age can often mask difficulties, deficits, challenges, and loneliness.This is a must-have handbook written by an Aspergirl for Aspergirls, young and old.
Rudy Simone guides you through every aspect of both personal and professional life, from early recollections of blame, guilt, and savant skills, to friendships, romance and marriage.
Employment, career, rituals and routines are also covered, along with depression, meltdowns and being misunderstood.
Including the reflections of over thirty-five women diagnosed as on the spectrum, as well as some partners and parents, Rudy identifies recurring struggles and areas where Aspergirls need validation, information and advice.
As they recount their stories, anecdotes, and wisdom, she highlights how differences between males and females on the spectrum are mostly a matter of perception, rejecting negative views of Aspergirls and empowering them to lead happy and fulfilled lives.This book will be essential reading for females of any age diagnosed with AS, and those who think they might be on the spectrum.
It will also be of interest to partners and loved ones of Aspergirls, and anybody interested either professionally or academically in Asperger's Syndrome.
Information
Format: Paperback
Pages: 240 pages
Publisher: Jessica Kingsley Publishers
Publication Date: 15/06/2010
Category: Coping with disability
ISBN: 9781849058261
Free Home Delivery
on all orders
Pick up orders
from local bookshops
Reviews
Showing 1 - 5 of 6 reviews.
Previous | Next
Review by detailmuse
16/06/2015
"Aspergirl" (the term) was coined by author Rudy Simone (herself an Aspergirl) to denote a girl with Asperger Syndrome. And <i>Aspergirls</i> (the book) is nearly as catchy as the term. It's the paper equivalent of a one-on-one conversation with an older sister or girlfriend or mentor who's "been there" -- a fast and very casual source of information and support directed primarily to Aspergirls (of all ages) and secondarily to their parents, siblings, spouses, and children.Simone's overall purpose in this book seems twofold: first, to help Aspergirls survive (advocating a zero-tolerance for bullying, then framing aspects of different-ness in a way that builds self-esteem); and second, to help them thrive (promoting education/training as the path to financial security and personal independence). Each of the 25 chapters addresses an aspect of Aspergirl life, among them: sensitivities; coping behaviors; puberty; friendships; education; work; marriage; children; aging. I was going to characterize it as more supportive and less informative ... until I found myself quoting from it numerous times over coffee with a friend! It's an accessible, female-centered resource that will be empowering for Aspergirls and revelatory to those who love them.(Review based on an advance reading copy provided by the publisher.)
Review by Kasthu
16/06/2015
'm not usually into reading books about Asperger's, but I picked this book up because I recently disclosed it to my supervisor at work (after experiencing sensory processing problems), who told me he thought it was "just a label." This book more or less confirms everything I've ever known about Asperger's, but it's tailored to women and girls, which makes it much more relevant, at least to me. For some reason, research on autism and Asperger's focuses more on the male experience, so I thought that this book was refreshing in that aspect.The book is divided into chapters that focus on all the challenges that girls and women with AS experience: self-taught reading skills, sensory problems, gender roles, puberty, dating and relationships, friendships, employment, having children, having temper meltdowns, rituals and routine, and getting older on the spectrum, just to name a few. Nearly all the things discussed in the book describe me life completely, so it was interesting to me to read that many of us have gastrointestinal trouble, connected to stress. I've had it all my life, but I'd never connected it to AS (which I didn't find out I have until I was 25). Another thing I thought was interesting, and totally on, was the chapter on AS in the workplace, and the importance of having obsessions to keep us focused on our careers (I always thought that having obsessions were bad for me).Rudy Simone's approach is hands-on, and her writing style is easy to read. The chapters are short and give good tips to women and girls with AS and the people closest to them. I don't know that I believe all the holistic stuff, but I think this book should be required reading for women and girls who have been diagnosed with AS.
Review by heike6
16/06/2015
Wow! What a great book! Well written and thorough. Unlike other books on Asperger's, I felt like I was reading about myself!
Review by EinfachMich
16/06/2015
I've struggled with writing this review, because this book has good qualities and I think it's very helpful for someone who suspects that they or their child has AS. However, it is heavily slanted by the personal experiences and point of view of the author. So much so that at times it put me off or distracted me from the information I wanted. <br/><br/>I would recommend this book to teen and adult readers, but there's not much that can help a young child. Though there are stories that can help the parent of a young child better understand their behavior. I would also recommend this book to anyone interested in better understanding AS, and especially for anyone looking to better understand how gender is a factor in diagnose and social acceptance of disabilities like AS and Autism. <br/><br/>I ESPECIALLY recommend this book to mothers of autistic children. I suspect that many of us actually have undiagnosed AS and reading this book really highlights the similarities I share with my children and helped me better understand and empathize with them. <br/><br/>On the whole this a good, book, a fast read and very informative. I just wish there had been some other, contrasting opinions and experiences to balance the author's views.
Review by duende
16/06/2015
Not particularly well written or edited, but had interesting information.