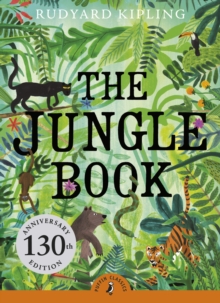 The Jungle Book
Paperback
Description
Puffin Classics - the world's favourite stories - relaunched with exciting new covers.The Jungle Book is a classic story of friendship between man and beast.Saved from the jaws of the evil tiger Shere Khan, young Mowgli is adopted by a wolf pack and taught the law of the jungle by lovable old Baloo the bear and Bhageera the panther.
The adventures of Rikki-Tikki-Tavi the snake-fighting mongoose, little Toomai and the elephant's secret dance, and Kotick the white seal are all part of Mowgli's extraordinary journey with his animal friends.With an introduction by Christopher Paolini.Joseph Rudyard Kipling (1865-1936) was born in India, although educated in England.
He was a prolific writer and recognized as a genius.
In 1907 he was awarded the Nobel Prize for Literature.
His many books for children include Just So Stories and Kim.
The book includes a behind-the-scenes journey, including an author profile, a guide to who's who, activities and more.The Puffin Classics relaunch includes:A Little PrincessAlice's Adventures in WonderlandAlice's Adventures Through the Looking GlassAnne of Green Gables seriesBlack BeautyHans Andersen's Fairy TalesHeidiJourney to the Centre of the EarthLittle Women seriesPeter PanTales of the Greek HeroesThe Adventures of Huckleberry FinnThe Adventures of King ArthurThe Adventures of Tom SawyerThe Call of the WildThe Jungle BookThe OdysseyThe Secret GardenThe Wind in the WillowsThe Wizard of OzTreasure Island
Information
Format: Paperback
Pages: 256 pages, none
Publisher: Penguin Books Ltd
Publication Date: 05/03/2009
Category: Classic
ISBN: 9780141325293
Other Formats
Paperback from £2.50
Hardback from £5.25
CD-Audio from £8.75
Free Home Delivery
on all orders
Pick up orders
from local bookshops
Reviews
Showing 1 - 3 of 3 reviews.
Review by AmyElizabeth
16/06/2015
I hadn't realized The Jungle Book was actually a collection of stories Kipling wrote, including the one I know and love in the form of a Disney movie. I was quite surprised (and happy!) to see Rikki-Tikki-Tavi (a personal favorite of mine) and a few others that I hadn't heard of. Each story was entertaining, short, and descriptive. It made me want to go back and watch the movie versions of The Jungle Book (in which I don't recall Bagheera being quite so endearing) and Rikki-Tikki-Tavi. This is a classic that many can enjoy for generations to come.
Review by bookworm12
16/06/2015
This classic story of a boy raised by a pack of wolves has lost none of its power over the years, but the Disney movie certainly doesn't do it justice. Mowgli's journey to manhood is so much more complicated than that depiction shows. He learns the jungle law from the vivid characters Baloo the bear and the panther Bagheera and he must fight the tiger Shere Khan, but the true story lies in his life as a misfit. Though he's raised in the jungle, most animals never accept him. Then when he returns to the human village he finds the same is true there. He has no real home and the pain of that breaks his heart.
Review by cshupp
16/06/2015
I have to say I like the movie better, but I think that's because of the music! It was an interesting story. Kipling either has an amazing imagination or he actually spent time in the jungle. Maybe it's both.