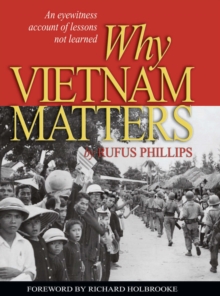 Why Vietnam Matters : An Eyewitness Account of Lessons Not Learned
Hardback
Description
In The Best and the Brightest, David Halberstam describes Rufus Phillips coming before President Kennedy during the Vietnam War and "admitting the failures of his own program, in itself a remarkable moment in the American bureaucracy, a moment of intellectual honesty." With that same honesty, Phillips gives an extraordinary inside history of the most critical years of American involvement in Vietnam, from 1954 to 1968, and explains why it still matters.
Describing what went right and then wrong, he argues that the United States missed an opportunity to help the South Vietnamese develop a political cause as compelling as that of the Communists by following a"big war" strategy based on World War II perceptions.
This led the Americans to mistaken assumptions that they could win the war themselves and give the country back to the Vietnamese.
Documenting the story from his own private files as well as from the historical record, the former CIA officer paints thumbnail sketches of such key figures as John F.
Kennedy, Maxwell Taylor, Robert McNamara, Hubert Humphrey, and Ngo Dinh Diem, among others with whom he interacted.
Phillips details how the legendary Edward G. Lansdale helped the South Vietnamese gain and consolidate their independence between 1954 and 1956, and how this later changed to a reliance on American conventional warfare with its highly destructive firepower.
He reasons that the Americans'failure to understand the Communists, their South Vietnamese allies, or even themselves took them down the wrong roads.
In summing up U.S. errors in Vietnam, Phillips draws parallels with the American experience in Iraq and Afghanistan and suggests changes in the U.S. approach that the American public can support. Known for his intellectual integrity and firsthand, long-term knowledge of what went on in Vietnam, the author offers lessons for today in this long awaited account that must not be overlooked.
Information
Format: Hardback
Pages: 384 pages, 64 b/w photos & 4 maps
Publisher: Naval Institute Press
Publication Date: 15/10/2008
Category: Asian history
ISBN: 9781591146742
Other Formats
Paperback / softback from £25.50
Free Home Delivery
on all orders
Pick up orders
from local bookshops