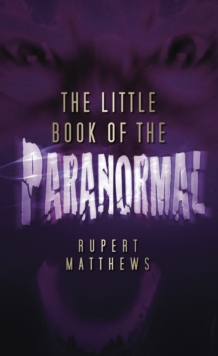 The Little Book of the Paranormal
Hardback
Description
The paranormal is a subject of endless fascination to the book-buying public.
There is an insatiable appetite for tales of UFOs, ghosts, bigfoot and other features of our world that are frequently reported by eye-witnesses, but are not yet accepted by science as being genuine phenomena or events.
This little book introduces the reader to the world of the paranormal and entertains them with numerous anecdotes, snippets of information and lists of events.
Rupert Matthews has produced an amusing, and yet serious volume that will leave the reader wondering just why scientists refuse to study the amazing world of the paranormal.
The book is divided into eight chapters, including: UFOs and aliens, Bigfoot and man-apes, ghosts and hauntings, sea-serpents and lake monsters, predictions and curses, poltergeists, paranormal humans and `going beyond' - which deals near-death experiences and mediumship. This is a thought-provoking book covering all aspects of the paranormal in an accessible and entertaining way.