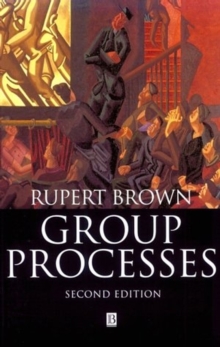 Group Processes 2E
Paperback
Description
People's lives are inescapably bound with the groups to which they belong.
Whether at home, work, or play human beings are essentially group beings.
Thus, an understanding of behavior in group settings is a central task for social psychology. "Group Processes" aims to deepen our understanding of relationships within and between groups by means of three key ideas.
First, groups are a source of social identity; our sense of who we are and what we are worth derives from our group memberships.
Second, there is a constant tension in group life between its task and socio-emotional aspects; "getting on with the job" whilst also "getting on with people".
Third, group dynamics are frequently governed by comparison processes, both within the group and between the ingroup and various outgroups.In this comprehensively revised edition, Rupert Brown introduces readers to the major developments in the field of group processes in a clear and compelling way.
All the chapters have been thoroughly updated and several new sections have been added. There are considerably extended treatments of such key topics as group cohesion, social comparison, leadership, social facilitation, group performance, socio-cognitive aspects of intergroup relations, and social identity processes.
The new material is woven seamlessly into the existing structure of the book, integrating the latest theory and research with classic contributions from the past.
There are many supporting illustrations from contemporary life throughout the text.
Free Home Delivery
on all orders
Pick up orders
from local bookshops