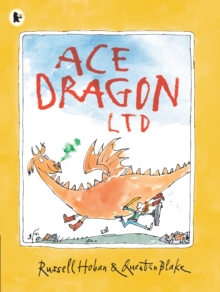 Ace Dragon Ltd
Paperback / softback
Description
A fire-breathing dragon takes a boy on a fantastic sky-high adventure in this irresistible Hoban and Blake classic. From the inimitable duo of Russell Hoban and Quentin Blake, the pair behind the hilarious tales of Captain Najork, comes a story about a little boy, a fire-breathing dragon, and their sky-high adventure! "I can make fire come out of my nose and mouth," the dragon under the pavement tells John. "I can fly. I can spin gold into straw if you have any gold." John doesn't have any gold - and he doesn't need any straw. (Not yet, anyway.) The dragon tells John that if he fights the dragon and wins, the dragon will take him flying." What a challenge!
Where will it lead? John soon finds out - and he also finds out that you just never know when a bundle of straw might come in handy...
With sword-flashing excitement, a moon landing and plenty of magic, this irresistible page-turner is brought back into print in a bigger format - and a beautiful, more colourful, new edition.
Information
Format: Paperback / softback
Pages: 48 pages
Publisher: Walker Books Ltd
Publication Date: 01/06/2016
Category: Picture books
ISBN: 9781406343847