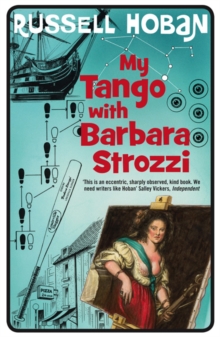 My Tango with Barbara Strozzi
Paperback
Description
Recently separated, Phil Ockerman falls hard for Bertha Strunk at a tango lesson in Clerkenwell.
Bertha also bears a strong resemblance to the seventeenth-century Venetian singer and composer Barbara Strozzi (with whom Phil happens to be obsessed), to the point where Phil is no longer sure which is which.
Navigating several London underground lines and considerable planetary activity, Russell Hoban's intriguing romance tangos its way through a world of infidelity, artificial eyeballs, baseball bats and music - never missing a daring, seductive step.
Information
Format: Paperback
Pages: 176 pages
Publisher: Bloomsbury Publishing PLC
Publication Date: 17/11/2008
ISBN: 9780747592716
Free Home Delivery
on all orders
Pick up orders
from local bookshops
Reviews
Showing 1 - 2 of 2 reviews.
Review by jayne_charles
16/06/2015
Not sure how to review this, really, given that a lot of the things that irritated me about it were cleared up by the ending, but I wouldn't want to give the ending away of course.It's an odd book, original for sure, and one where Tchaikovsky and Domino's Pizza can be happily namechecked on the same page. Mostly it read like Nick Hornby with a dash of Oscar Wilde, except that whoever was adding the Oscar Wilde forgot to say 'when'.I'm glad I read it, there were parts that were entertaining and parts that were highly informative, and the author writes extremely well. it was interesting, but to say I thoroughly enjoyed it would probably be going a bit too far.
Review by JosephCamilleri
27/08/2015
I bought this book on impulse while on holiday. I did so primarily because I was intrigued by the title's erudite reference to obscure Venetian Baroque composer Barbara Strozzi. The 49p price tag helped as well. I have to confess I had never heard of Russell Hoban before and, blissfully unaware that he was a critically acclaimed author, I approached the novel without any specific expectations. It turned out to be an enjoyable, if flawed, rom-com romp.Phil Ockerman is an author who has just been through a divorce and whose latest novel has fallen flat with critics and readers. To boost his morale he decides to start taking tango lessons in Clerkenwell. For reasons which are at best vague and at worst unconvincing, he believes that this will bring him in touch with the spirit of Strozzi, a composer with whom he is (for equally vague and unconvincing reasons) quite obsessed. Sure enough, at his first lesson Phil befriends Bertha Strunk, a young woman who bears an uncanny resemblance to Strozzi. Bertha however comes with her own baggage - including a violent ex-husband and an older lover who had once tried to rape her. Will love blossom in this unlikely scenario?Frankly, the plot is unconvincing and the dual first-person narration (alternating between Phil and Bertha/Barbara)does not quite work as the narrative voices are too similar. Yet the book is still strangely gripping and worth reading at least for the quirky humour.