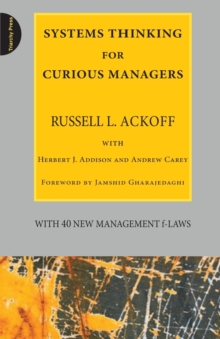 Systems Thinking for Curious Managers : With 40 New Management F-Laws
Paperback
Description
This gem of a book introduces the extraordinary world of Systems Thinking and its 'Dean', Russell Ackoff, to curious and enquiring managers, teachers, business people - anyone, anywhere who works in an organisation.
Finished just before Professor Ackoff's death late in 2009, "Systems Thinking for Curious Managers" opens the door to a joined up way of thinking about things that has profoundly influenced thinkers and doers in the fields of business, politics, economics, biology, psychology.
Although Systems Thinking was 'invented' early in the 20th century, even Peter Senge's best-selling "The Fifth Discipline" (Systems Thinking is the fifth discipline) failed to popularise the term.
But now, in business and academia, in the public sector and in the search for solutions to the environmental problems we face, Systems Thinking is being talked about everywhere.
In the same way, it's only since his death in 2009 that management thinker, writer and guru Russell Ackoff has achieved the reputation he deserves.
This timely book presents 40 more of Russ Ackoff's famously witty and incisive f-Laws (or flaws) of business - following on from his 2007 collection "Management f-Laws". All those in this collection are new and previously unpublished. Andrew Carey's extended introduction ties these f-Laws into the rest of Ackoff's work and gives the reader new to Systems Thinking a practical guide to the implications of Systems Thinking for organisations and managers.
The Foreword by Jamshid Gharajedaghi is a moving tribute from Ackoff's friend and business partner of many years.
Free Home Delivery
on all orders
Pick up orders
from local bookshops