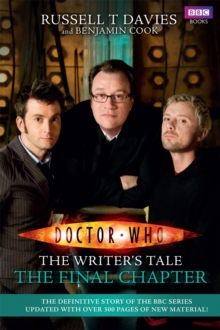 Doctor Who: The Writer's Tale: The Final Chapter
Paperback
Description
For this new edition of "The Writer's Tale", Russell T Davies and Benjamin Cook expand their in-depth discussion of the creative life of 'Doctor Who' to cover Russell's final year as head writer and executive producer of the show, as well as his work behind the increasingly successful "Torchwood" and "The Sarah Jane Adventures" spin-offs.
Candid and witty insights abound throughout two years' worth of correspondence, covering David Tennant's last episodes as the Doctor and the legacy that Russell and David leave behind as a new era of "Doctor Who" begins.
With over 300 pages of new material, and taking in events from the entire five years since the show's return in 2005, "The Writer's Tale: The Final Chapter" is the most comprehensive - and personal - account of "Doctor Who" ever published.
Information
Format: Paperback
Pages: 736 pages
Publisher: Ebury Publishing
Publication Date: 14/01/2010
Category: Television
ISBN: 9781846078613
Free Home Delivery
on all orders
Pick up orders
from local bookshops
Reviews
Showing 1 - 5 of 5 reviews.
Review by baroquem
16/06/2015
The content is excellent, but I rate this edition just a little bit lower than the first because the paperback binding, cheaper paper, and lack of color headings really does detract from the overall effect.
Review by hairballsrus
16/06/2015
A MUST READ FOR FANS OF THE NEW DOCTOR WHOThis is a fantastic look backstage at the creation of Season Four of the new Who and the series of TV Specials that spanned the year between Doctor Ten (David Tennant) and Doctor Eleven (Matt Smith). It's told completely in a series of emails between the head writer of DW-Russell T. Davies and a writer for Doctor Who Magazine, Ben Cook. I found so many things I could relate to as Davies described the writing process: the procrastination, the late night work schedule, the characters talking in his head, the massive span of the Maybe. There's lots of eureka moments revealed: so many so THAT's why they told it that way epiphanies! It's amazing how many things now accepted as the only way to tell a story were made up at the last minute to fill a hole in the original plot! Being the head writer, I suppose I shouldn't have been surprised by how much control Davies had over the other writers product, but my heart still went out to them when he ripped apart their scripts. One writer lost their story after over a year of development, although, now that I've seen previews for Season Five, it looks like it found a new home with the new Doctor. Russell Davies is above all things-a fanboy-and he insists he did it all for the good of the show. Argue all you like about his writing style and choices, but he did make DW a success and get it back on the air after a long absence. His trivia knowledge alone makes it obvious he was a great choice for head writer. The Doctor has been very important to him for a very long time. It's a very frank memoir and reveals so much about the control of the DW empire and Davies himself, not to mention all those trips to Tesco each morning! Thank you for letting us inside your head. And good luck in LA!One negative point: Having bought the extended version with two years of emails as opposed to one, the paper binding isn't really up to the task of 700+pages. I'd like to refer back to the book as I rewatch Season Four, but I'm afraid I'll break the spine! Perhaps a hardback edition for the American side of the pond would be in order.
Review by Alera
16/06/2015
I cannot begin to describe how excited I was upon acquiring The Writer's Tale - The Final Chapter. I have over the span of the last few years become a rabid little Doctor Who fan girl, and a bit of a British Television Junkie. Adding this to the fact that I think Russell T. Davies is brilliant, and I've loved him since I discovered Showtime's version of Queer as Folk which led me back to the original he created. I knew I was settling in for something that I would enjoy. My surprise (though I don't know why I was really) comes from the fact that this book, not only gave me insight into a show I love and a man I admire, but it also spoke to me as a writer. The mad, manic process with continual highs and lows so freely spoken about in e-mails and text messages sent back and forth between Russell and Benjamin Cook, describes everything I've always felt writing to be. And probably for the first time ever, I came out of a book about writing, not feeling like I've been doing it all wrong, but rather feeling like I might have had it right this whole time. And while there are a lot of references to British television and Doctor Who, considering the origin, I think it can genuinely speak past that. With the footnotes to give a bit of background and explanation, I honestly believe this can speak to every writer, or any one who ever thought of being a writer, anyone who imagines mad, crazy, zany things, or simple moving moments.Sure, it looks a bit like a daunting piece, well over 500 pages long, but I literally inhaled this tome in under 72 hours. It's funny, it's raw, and it doesn't lie. I simply cannot praise this enough.
Review by pauliharman
16/06/2015
Detailed and revealing insight into the mind of the Doctor Who showrunner for series 3 and 4. Equal parts inspiring and heartbreaking, this is a tale of a writer struggling with dealines and a producer struggling with budgets and other considerations, all told in a series of emails.
Review by -Eva-
16/06/2015
Oh, this is just brilliant! Welcome into the head of Russell T. Davies - a virtual trip to wonderland for any Whovian. Although this is mainly about writing the fourth series of the new <i>Doctor Who</i> and the following specials, the book covers everything from the financial issues of TV production, to public relations, to fandom, to rewriting other people's scripts, to Davies' own issues with crowds, and then a barrage of doctor-related gems in between. Obviously a must-read for Whovians, but this could still be read by anyone interested in TV writing or TV production. Also, since it's an email exchange between two close friends, we get access to some very personal information and the discussion sometimes gets excessively candid, but in a very, very good way.
Also in the Doctor Who series | View all