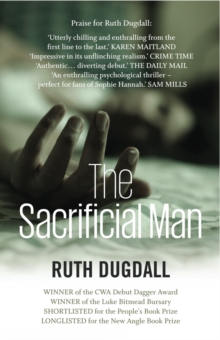 The Sacrificial Man: Shocking. Page-Turning. Intelligent. Psychological Thriller Series with Cate Austin
Paperback
Description
FROM THE AUTHOR OF THE INTERNATIONAL BESTSELLER THE WOMAN BEFORE ME'Utterly chilling and enthralling from the first line to the last.' Karen Maitland'An unflinching journey, chilling and insightful, into the darker reaches of the human mind.' Michelle SpringWhat I want to say is that suicide is my choice.
No-one else is to blame. Man seeks beautiful woman for the journey of a lifetime: Will you help me to die?When Probation Officer Cate Austin is given her new assignment, she faces the highest-profile case of her career.
Alice Mariani is charged with assisted suicide and Cate must recommend a sentence.Alice insists her story is one of misinterpreted love, forcing those around her to analyse their own lives.
Who is to decide what is normal and when does loyalty turn to obsession?Investigating the loophole that lies between murder and euthanasia, Cate must now meet the woman who agreed to comply with her lover's final request.
Shocking revelations expose bitter truths that can no longer be ignored.A clever, sophisticated, psychological thriller, perfect for fans of Gillian Flynn, S.J.
Watson, B A Paris and Sophie Hannah
Information
Format: Paperback
Pages: 308 pages
Publisher: Legend Press Ltd
Publication Date: 25/06/2011
ISBN: 9781908248008
Free Home Delivery
on all orders
Pick up orders
from local bookshops
Reviews
Showing 1 - 2 of 2 reviews.
Review by CookieDemon
16/06/2015
I'm on a bit of a psychological thriller kick at the moment and this book seemed to fit the bill perfectly. The premise sounded really interesting- if a bit grim! I was looking forward to reading about a disturbed protagonist and her questionable behaviour and the reasons for her actions, expecting a lot of comprehensive insight and detail.The book revolves around Alice, about to be sentenced for assisted suicide- she however claims that the man she met on the internet *wanted* her help to die and his suicide note seems to purport the theory. Probation Officer Cate Austin isn't quite so sure that the case is as clean cut as it is made out to be, particularly given the man's rather gruesome end...This was an interesting read with a few surprising twists and turns that kept me turning the pages. I don't want to say too much about the plot for fear of spoiling it. The storyline is however pretty macabre in places and some of the stuff in the story turned my stomach. Don't read this if you have a queasy stomach or are easily disturbed!Alice was interesting as a protagonist, though inherently unlikeable- and we didn't learn too much about Cate either so as a consequence she felt a little bit one-dimensional. I realise Dugdall has written another book about her where this may not be the case, but generally in this novel I felt she didn't play too much of a significant role. More of the focus was on Alice, though as she was an incredibly disturbed individual a lot of what was uncovered was unpleasant and didn't make for easy reading.Other niggles: on occaision the tense of the story abruptly switches. I found this to be confusing, though this is possibly just a case of poor editing. I would like to think that this would have been picked up by the publishers however. Also, as some of the other reviewers have already pointed out, the Kindle formatting of this book is just awful generally- a complete distraction with spelling mistakes and grammatical errors. Some spacing/chapter breaks would not have gone amiss on occaision. I don't know if this is the case with the paperback version but it was very off-putting for me here, personally.I think 3 stars is an accurate rating- I liked the writing style and premise reasonably enough but some of the actual content was just disturbing enough for me to have to think twice as to whether this author was aiming for psychologically thrilling or mere shock value. Also, I felt I never really fully engaged with the characters on any level- even Alice. I also didn't really understand the point of Lee being there at all- apart from her actions towards the end. The repeated retelling of `mummy' episodes got a bit tiresome too.Overall, not a bad read. I would read other books by this author in future, though I don't know if I would be in a massive rush to do so. *This review also appears on Amazon.co.uk*
Review by shelleyraec
16/06/2015
I'm still not entirely sure how I feel about the Sacrificial Man, nor how to respond to it. Recommended by Carol at Reading, Writing and Riesling, the blurb certainly sounded intriguing.The Sacrificial Man tells the story of Alice Mariani, a woman convicted by the courts for helping her lover to die. As Alice insists she has done nothing wrong and deserves no punishment, probation officer Cate Austin begins her investigation to determine an appropriate sentence for the crime.The reader might expect that the ethics of euthanasia would be at the core of this novel but it is subverted by the study of the twisted psychology and motivations of Alice, and her lover. While I thought the twists to the plot were clever, somehow they failed to catch me unawares, though shocking revelations involving incest, rape, drug addiction and cannibalism did surprise me.I developed some sympathy for Alice as Dugdall revealed her personal history, but she is not a likeable character, and is quickly exposed as cold, calculating and manipulative. Neither did I engage with Cate, though perhaps if I had read Dugdall's first book featuring the probation officer, The Woman Before Me, it would have helped.The Sacrificial Man is an unsettling read, I really can't articulate why it didn't affect me more strongly, especially as I do admire the plot and was reluctant to put the book down while reading. This is a dark and disturbing and if asked, I'd recommend it to readers who enjoyed Gillian Flynn's Gone Girl.
Also in the Cate Austin series | View all