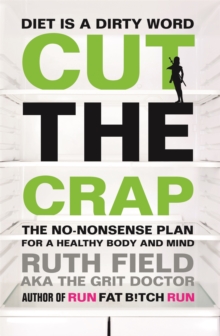 Cut the Crap : The No-Nonsense Plan for a Healthy Body and Mind
Paperback
Description
The Grit Doctor is one tough task-mistress . . . First she instructed us to lace up our trainers in RUN FAT B!TCH RUNThen she told us to clear the clutter in GET YOUR SH!T TOGETHER Now she is ordering us to CUT THE CRAP and get real with our eating habitsShould you go gluten free?
Does detoxing work? What exactly is a superfood? Does healthy eating have to involve obscure ingredients and complex recipes?
If you're confused by increasingly complicated (and contradictory) nutritional advice, it's time to call in Ruth Field and her formidable alter-ago, The Grit Doctor.
With her familiar tough-love style and wicked sense of humour, The Grit Doctor will demystify and simplify healthy eating, enabling readers to see past the bullsh!t and make practical and tasty choices for themselves and their families.
Cutting the crap is just as much about eliminating unhelpful and unhealthy pseudo-science as it is about reducing your waistline.
In CUT THE CRAP, Ruth Field will empower readers to ditch faddy diets for good and instead embrace a realistic, sustainable and enjoyable healthy eating plan.
This isn't a diet, it's a way of life. ____________Readers love CUT THE CRAP: 'Great approach to eating, and life in general' 'Five stars given because this book offers straight forward advice that's easy to digest!
The humour and wit keeps it fresh, causing a few chuckles along the way' 'Awesome . . . all her books are!' 'Well worth the price and more likely to change your crap eating habits in a sensible bit-by-bit way than any of the other "diet" books out there!' 'The kick up the rear we needed' 'This book is such a refreshing change from the usual bulls*** boring diet books out there . . . Ruth Field's writing style is extremely funny so you actually enjoy reading the book regardless of whether you want to lose weight or not, like doing sport for fun instead of for misery.
What a welcome change to all the hundreds of diet books I've attempted to read but are now gathering dust on a spare bedroom book shelf'
Information
Format: Paperback
Pages: 272 pages
Publisher: Little, Brown Book Group
Publication Date: 13/01/2015
Category: Diets & dieting
ISBN: 9780751556742
Free Home Delivery
on all orders
Pick up orders
from local bookshops