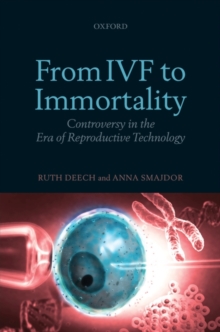 From IVF to Immortality : Controversy in the Era of Reproductive Technology
Paperback / softback
Description
This is a book for anyone who has ever paused to wonder: Will cloning ever be legal?
Why it is that 'saviour siblings' and sex selection provoke such strong reactions?
Will there ever be such a thing as an artificial womb?
Assisted reproductive technologies are unique in their capacity to challenge our assumptions and elicit passionate responses.
Looking at the moral, philosophical, and legal issues surrounding cases of surrogacy, single or same-sex parenthood, retrieval of sperm from dead or dying patients, and the insemination of post-menopausal women, this book questions whether these rapidly-developing technologies are refashioning the nature of the family.
The UK has played a unique role in the development and regulation of reproductive technologies, and has been at the forefront of controversy over 'saviour siblings', designer babies, reproductive cloning, and embryo research.
This book provides a clear and simple account of the techniques involved in assisted reproduction and embryo research, and discusses the legal and ethical implications of some of these technologies, illustrated by compelling descriptions of real-life cases.
The book alsoaddresses the ways in which reproductive technologies are regulated, critically examining the role of the Human Fertilisation and Embryology Authority and comparing the UK's approach with that of other countries.
Finally, it contemplates the possibility that some of our most deeply-held assumptionsabout human nature may be called into question by further developments in stem cell research and fertility treatments.
Information
Format: Paperback / softback
Pages: 248 pages
Publisher: Oxford University Press
Publication Date: 15/11/2007
Category: Ethics & moral philosophy
ISBN: 9780199219797
Free Home Delivery
on all orders
Pick up orders
from local bookshops