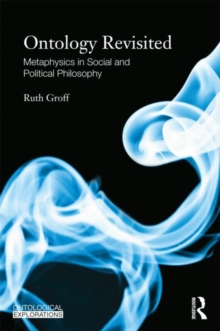 Ontology Revisited : Metaphysics in Social and Political Philosophy
Hardback
Description
Groff's argument runs counter to the familiar anti-metaphysical habit.
Social and political philosophy, she maintains, is not as metaphysically neutral as it may seem.
Even the most deontological of theories connects up with an attendant set of philosophical commitments regarding what kinds of things exist, as a fundamental ontological matter, and what they are like.
These are topics of interest not just to social and political philosophers, but to social scientists and to philosophers of social science as well. "Ruth Groff has broken new ground in demonstrating the connection between social and political thought and the ontology of causal powers. Her account of the structure of Humean thinking about agency is excellent. Especially significant is the role that she assigns to Kantianism in the analysis that she develops. She moves effortlessly between contemporary metaphysics, political theory, critical social theory, and the history of modern philosophy, offering trenchant insights along the way into the work of thinkers ranging from Hume himself to Mill, Adorno, and Martha Nussbaum, and into debates over agent causation and emergence. There is even a discussion, in the final chapter, of Spinoza. This is big-picture philosophy at its best: rigorous and exacting at the level of detail; original, compelling and systematic in the whole." - Stephen Mumford, Professor of Metaphysics and Dean of the Faculty of Arts, University of Nottingham
Other Formats
Paperback / softback from £35.45
EPUB from £35.16
PDF from £35.16
Free Home Delivery
on all orders
Pick up orders
from local bookshops