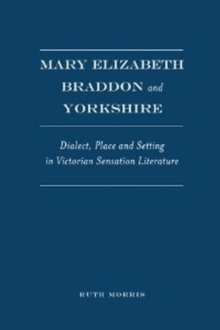 Mary Elizabeth Braddon and Yorkshire : Dialect, Place and Setting in Victorian Sensation Literature
Hardback
Description
This scholarly monograph offers new research on Mrs. Mary Elizabeth Braddon (1835-1916) who wrote over eighty novels and rivaled Charles Dickens and Wilkie Collins in popularity in mid and late Victorian times.
The study looks at the representations of Yorkshire across over thirty of her novels and analyses her uses of the Yorkshire dialect, her Yorkshire settings and specific towns and cities in the county (Braddon mentions more than 25 of these by name).
It provides both an overview of her work and also contains some in-depth study of specific novels (including the best-seller Aurora Floyd).
The study spans a significant time frame (over sixty years) to analyse how depictions of the county change.
As well as looking at Braddon s work, it also considers the representations of Yorkshire by other prominent nineteenth-century writers including Elizabeth Gaskell, Edward Bulwer-Lytton and George Eliot amongst others.
Place has an important role in sensation fiction, of which Braddon was a major exponent, much praised and pilloried by critics in her time.
The domestic setting of many of her novels was one reason why the genre was so heavily criticised.
There are no studies which look at Braddon s engagement with Yorkshire which is surprising as Braddon lived in the county for a period, and had her first novel produced by a Yorkshire publisher.
This study aims to fill the gap in scholarship on this subject and elaborate on Yorkshire's unique place in 19c English popular fiction.
Information
Format: Hardback
Pages: 132 pages, Illustrations
Publisher: Academica Press
Publication Date: 15/07/2010
ISBN: 9781936320547
Free Home Delivery
on all orders
Pick up orders
from local bookshops