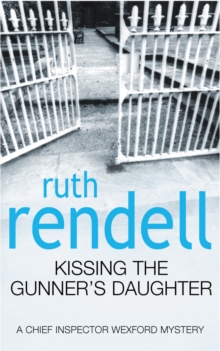 Kissing The Gunner's Daughter : (A Wexford Case)
Paperback
Part of the Wexford series
Description
The fifteenth book to feature the classic crime-solving detective, Chief Inspector Wexford. The thirteenth of May is famously the unluckiest day of the year.
Sergeant Caleb Martin of Kingsmarkham CID had no idea just how terminally unlucky it would prove, as he embarked upon his last day on earth... Ten months later, Wexford is confronted with a murder scene of horrific brutality.
At first the bloodbath at Tancred House looks like the desperate work of a burglar panicked into murder.
The sole survivor of the massacre, seventeen-year-old Daisy Flory, remembers the events imperfectly, and her confused account of the fatal night seems to confirm this theory.
But more and more, Chief Inspector Wexford is convinced that the crime lies closer to home, and that it has sinister links to the murder of Sergeant Martin...
Information
Format: Paperback
Pages: 416 pages
Publisher: Cornerstone
Publication Date: 06/04/1993
Category: Crime & mystery
ISBN: 9780099249115
Free Home Delivery
on all orders
Pick up orders
from local bookshops
Reviews
Showing 1 - 1 of 1 reviews.
Review by reading_fox
16/06/2015
Pedestrian murder investigation. The literate Chief inspecter Wexford gets notified of a 999 call from a young girl claiming "they are all dead, I think I'm going to die too, hurry before I blead to death" and that's about all the excitement in this book. He and his team arrive at "Tanscay" the home of a rich literary authoress who with her husband, and daughter have all been shot. The granddaughter Daisy Flory, also shot but still alive is rushed to hospital. What follows is plodding and dull investigation where Wexford speaks to a few of the people who live on the estate, and four weeks pass without anything notable happening. Quite how the 4 or 5 people he speaks to manage to fill 4 weeks is unclear. Some of this time is interspersed with Wexford's family issues. these may once have been of interest to readers who have been following Wexford's career, but they are at best distracting, and mostly dull for the casual reader. There is a while when you are hoping that the new boyfriend will be implicated in the murder plot simply ot liven things up, but alas this doesn't come to pass. The Blurb on the back says "not an unecessary word" but along with all the other faulty praise this is wrong too. There are long paragrpahs of pretentious descriptions of the woodlands, that do nothign to move the plot along, and fail to move the spirit either. Some of the characterisation of Daisy is not too bad, and Wexford's interaction with his subordinates is also reasonable but overal not an entertaining read, nor a particularly well written book, though the ending is reasonably well contrived. Speaking of contrived, the book's odd title is explained part way thorugh, though it has little if any bearing on the plot.