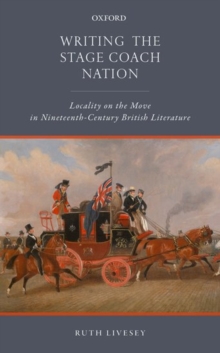 Writing the Stage Coach Nation : Locality on the Move in Nineteenth-Century British Literature
Hardback
Description
Why is it that so many of the best-loved novels of the Victorian era take place not in the steam-powered railway present in which they were published, but in the very recent past?
Most works by Dickens, Bronte, Eliot, and Hardy set action neither in the present nor in a definitively historical epoch but rather in a 'just' past of collective memory, a vanishing but still tangible world moving by stage and mail coach.
It is easy to overlook the fact that JaneEyre, Bleak House, and Middlemarch, for example, are in this sense historical novels, recreating places and times that are just slipping from the horizon of here and now.
Ruth Livesey brings to the surface the historical consciousness of such novels of the 'just' past and explores how they convey an idea of anational belonging that can be experienced through a sense of local place.
The journey by public coach had long been an analogy for the form of the novel as it took shape in the eighteenth century; smooth engineered roads and the rapid circulation of print was one means by which Britain was reimagined as a modern, peaceable, and communicative nation in the aftermath of the Napoleonic wars.
But by the later 1840s the end of the stage coach was assured and that made it a highly charged figure of a lost national modernity.
In its halts, relays, stops at inns, andcrossing points, the stage and mail coach system offered a different experience of mobility and being-in-place-passages of flight and anchoring points-from the vectors of the railway that radiated out from industrial and urban centres.
This book opens by examining the writing of the stage coach nation inWalter Scott's fiction and in the work of the radical journalists William Hazlitt and William Cobbett.
Livesey suggests that in turning to the 'just' past of the stage coach imaginary, later novels by Dickens, Bronte, and Eliot reach out to the possibility of a nation knitted together by the affect of strongly felt local belonging.
This vision is of a communicative nation at its liveliest when the smooth passage of characters and words are interrupted and overset, delivering readers andprotagonists to local places, thick with the presence of history writ small.
Information
Format: Hardback
Pages: 256 pages, 16 black and white halftones
Publisher: Oxford University Press
Publication Date: 29/09/2016
Category: Literary studies: c 1800 to c 1900
ISBN: 9780198769439
Free Home Delivery
on all orders
Pick up orders
from local bookshops