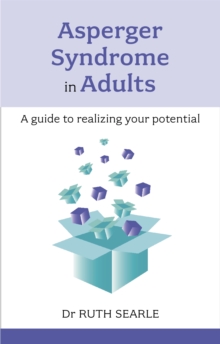 Asperger Syndrome in Adults
Paperback
Description
Someone with Asperger syndrome lives in a different world from the majority of people who are 'neurotypical'.
The resulting social struggle can impair self-esteem and mental health, leading to isolation, misunderstanding and depression.
This book looks at the social potential of adults with Asperger syndrome, and how they may contribute on their own terms.
Topics include; what it feels like to have Asperger syndrome, Asperger syndrome - disorder or difference, social relationships, including social strengths such as loyalty and patience, sensory overload and coping with the external environment, Aspergers in love - finding and maintaining an intimate relationship, if your partner has Asperger syndrome, employment, help and advice.
In this thorough guide, Dr Ruth Searle says that someone with Asperger syndrome interacts with the world from a unique perspective.
Be true to yourself and reach for your highest aspirations.
Information
Format: Paperback
Pages: 128 pages, ill
Publisher: SPCK Publishing
Publication Date: 20/05/2010
Category: Coping with personal problems
ISBN: 9781847090690
Free Home Delivery
on all orders
Pick up orders
from local bookshops
Reviews
Showing 1 - 2 of 2 reviews.
Review by crdf
16/06/2015
This book has amazingly low rating. Maybe people just don't agree with what is written in it. It is an eight chapter book, very easy to read. The first four chapters provide information on a variety of subjects. After all psychology is something complex an u can't isolate one matter without looking into what else affects us. It covers subject like aspergers, social psicology and even the biological differences between men and women. But the best thing is that the book gives the main contradicting theories and let us make up our own minds. Very informative and interesting to read. <br/>The end chapter give practical advice for building relationships and a clear way of communicating.
Review by Evalangui
16/06/2015
31.08 (UNFINISHED, because it sucks)<br/><br/>It's amazing that a book published in 2010 makes the sweeping generalizations about gender this one does. I periodically felt the need to set in on fire. Even though it claims Asperger is a 'extreme male brain' it never explains how you get female Aspies and how this affects them and their personalities, considering they are still asked the same from society. It's such a gapping hole in the argument it's not simply a matter of choosing not to engage but of actively ignoring the issue.<br/><br/>I think I liked one line from the whole book:<br/><br/>People with Asperger syndrome may have a limited capacity for socializing because they are only able to achieve success in social interactions by intellectualizing and thinking about how social interactions work - they find it difficult to understand the process intuitively. pp 5
Also by Ruth Searle