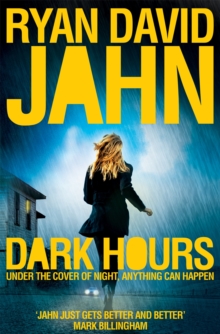 Description
Private Investigator Damien Lamb: a man hardened by life and seeking justice against those who have wronged society.
When the vulnerable Abigail walks into his office asking Lamb to retrieve her daughter from the confines of infamous cult, the Children of God, Lamb can't help but fall for her story. And so begins a breath-taking and dangerous journey as Lamb attempts to rescue Abigail's daughter, Lily, and bring down the charming yet heinous leader of the cult, Rhett Mosley.
But Abigail's motivations might not be as clear as they first seem and Lamb finds himself in more danger than he could ever have imagined . . .
Information
Format: Paperback
Pages: 352 pages
Publisher: Pan Macmillan
Publication Date: 02/07/2015
Category: Crime & mystery
ISBN: 9780230757578
Free Home Delivery
on all orders
Pick up orders
from local bookshops
Reviews
Showing 1 - 1 of 1 reviews.
Review by atticusfinch1048
27/08/2015
Dark Hours – A Fast Paced ThrillerDark Hours by Ryan David Jahn is a fast paced thriller where the best of the action takes place at night as the title suggests. What the title does not tell you is how gripping and fast paced this thriller really is, it is a roller coaster of a ride, with Private Investigator Damien Lamb seems to have more lives than your average cat. Definitely the all conquering American hero type here who is cynical at the world around him, a bit defective but lovable all the same.Damien Lewis has a reputation as a man that will get the job done as a Private Investigator no job to big or too small and he laughs in the face of danger! But one thing is he needs to work to pay the bills and when Abigail a beautiful woman with expensive tastes walks in to his office and asks him to rescue her daughter from her husband he cannot resist. Even when he finds out that her husband is the leader of an infamous Children of God Cult who is not afraid to kill.Even though he recognises that he has been spun a tale in part by Abigail he makes a promise to return her daughter to her. What he does not have is a plan but he does know that he will be up against a charming yet dangerous opponent in Rhett Mosley. He realises that he will somehow have to get inside the Children of God compound, rescue Abigail's daughter Lily and somehow get out alive.Jahn throws in to the mix a lot of violence, some abuse and plenty of brain washing in to the thriller mix. Through an excellent use of language the graphic violence is conveyed without it being gratuitous , but makes it clear Mosley will go to any length to what he perceives as his even dancing with the devil if need be.The characters are brilliantly defined, Lamb as the hardened Investigator, Abigail a vulnerable woman who has had a tough life and Lily the touch of innocence that brings out the best in Lamb. Mosley is clearly charismatic to his followers, twisted hard and prone to violent outbursts who is controlling of his daughter and his followers. The mix of characters gives the story a depth and roundness to the story, where you can pick up and sympathise with naivety and innocence in the juxtaposition of all the violence around.Jahn has certainly written a highly enjoyable fast paced thriller that drives you on and it is easy to see why he is building a reputation as a writer not to be missed. The writing is clear and concise, the conversations that are had make you want to read at pace and the more you read the more you want to read the book in one sitting. This thriller is packed with violence, innocence, fast pace and energy a must read for thriller lovers.