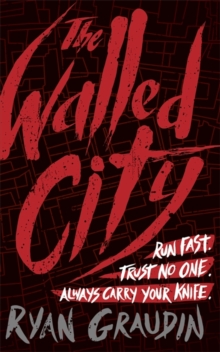 The Walled City
Paperback
Description
Disguised as a boy, Jin Ling searches for her missing sister, Mei Yee, who was sold into the brothels of the Walled City.
It's a cut-throat world of gangs, drug-dealers and warlords and every day is a struggle to survive.
Jin Ling relies on her speed and cunning but how long will her luck hold?
When a mysterious boy, Dai, requests her help with a dangerous mission Jin Ling's inclined to say no - this is a world where no one can be trusted - but the mission offers her a vital chance to see inside the brothel where her sister may be being held.Jin Ling and Dai join forces, but will either of them survive the mission?
Is Mei Yee still alive? And how will any of them ever escape the stifling city walls?With a fantasy setting inspired by Kowloon Walled City, Hong Kong, Ryan's novel has a rich authenticity and an intense atmosphere, and its pace will enthral the reader from the very first page.
Information
Format: Paperback
Pages: 448 pages
Publisher: Hachette Children's Group
Publication Date: 06/11/2014
Category: Fantasy
ISBN: 9781780621999
Other Formats
Paperback from £7.25
EPUB from £4.99
Free Home Delivery
on all orders
Pick up orders
from local bookshops
Reviews
Showing 1 - 1 of 1 reviews.
Review by DarkFaerieTales
10/11/2015
Review courtesy of Dark Faerie TalesQuick & Dirty: A gritty, immensely intriguing novel inspired by a dangerous city that actually existed in Hong Kong.Opening Sentence: There are three rules of survival in the Walled City: Run fast. Trust no one. Always carry your knife.The Review:The Walled City was actually a place that existed. While super interesting, that's also very frightening, knowing that this wasn't fiction. It started as a Chinese military fort and became a densely overpopulated hub for gangs, prostitutes, drug lords, and criminals. It was a mazelike, ungoverned patch of land that was stained in large death tolls and crusted in dirt. Eventually, yes, it was turned into a park – but not after a lot of pain and a huge body count. The decision to demolish the city was announced on the day the author was born.There are three main characters and points of view in this novel. Jin and Mei Yee are sisters, torn apart by their abusive father, who sold Mei Yee into prostitution. She is kept in a brothel, captured inside the Walled City, and although she despises her life there, any escape attempts are dearly punished: heroin is injected into rebellious girls, turning them into destructive addicts. Jin ran away from home to try to find her sister, and masks herself as a boy, distributing drugs to survive on the streets. Finally, Dai. After one horrible mistake in his youth, finding evidence to destroy the worst and most dangerous lord in all of the Walled City is his only way to be pardoned.The writing in the novel was cool. It was unique, making some sentences flow and run on melodically, and others short and choppy to convey pivotal moments. I also enjoyed the dangerous, reckless tone of the book. All the characters had something to lose, and they would do anything to make sure that wouldn't happen. Uneasy alliances, true friendships, and important secrets were tested within the pages of this novel.I enjoyed all three characters equally. See, with multiple perspective books, I can't help but leaning towards one character usually. I hate having to end that character's narration and move on to a storyline that I just don't want to read as much. Thankfully, with this book, I found that all of the chapters were just as interesting. Though the story started off very slow, and it took about halfway through for the action to really start happening, I never got too bored. There was a lot of background to fit in, after all, so the slow start wasn't much of a problem. The rich Chinese culture was also well described – the colors, the food – though the Walled City wasn't exactly the best place to judge a whole country on.Altogether, I enjoyed this novel. It was interesting, beautifully written, and the characters were complex. The love story was a little too love-at-first-sight-y for me, but cute nonetheless. The book started off slow, but if you can stick it out until halfway through, it speeds up considerably. I think that fans of action, intrigue, and are on the lookout for a thriller, will enjoy this awesome YA novel.Notable Scene:Kuen and his knives, I can handle. Dodge, duck, hide. That's all it takes. But Dai . . . he's a different kind of danger. Made of sweet and sleep and safe. The kind that creeps up while you're dreaming. Stabs you in the back.I never should've broken the second rule. Never should've let myself get closed in by his four walls. A place with no room to run. What good is a locked door when the threat might be inside?I've survived two whole years on these streets. I don't need anyone to save meFTC Advisory: Little, Brown and Company provided me with a copy of The Walled City. No goody bags, sponsorships, "material connections," or bribes were exchanged for my review.