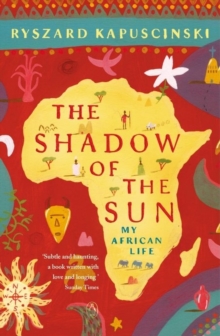 The Shadow of the Sun : My African Life
Paperback
Description
'Only with the greatest of simplifications, for the sake of convenience, can we say Africa.
In reality, except as a geographical term, Africa doesn't exist'.
Ryszard Kapuscinski has been writing about the people of Africa throughout his career.
In astudy that avoids the official routes, palaces and big politics, he sets out to create an account of post-colonial Africa seen at once as a whole and as a location that wholly defies generalised explanations.
It is both a sustained meditation on themosaic of peoples and practises we call 'Africa', and an impassioned attempt to come to terms with humanity itself as it struggles to escape from foreign domination, from the intoxications of freedom, from war and from politics as theft.
Information
Format: Paperback
Pages: 336 pages
Publisher: Penguin Books Ltd
Publication Date: 01/03/2002
ISBN: 9780140292626
Free Home Delivery
on all orders
Pick up orders
from local bookshops
Reviews
Showing 1 - 2 of 2 reviews.
Review by pingdjip
16/06/2015
Kapuscinski starts out as a complete newby, an ignorant stranger, when he arrives in Ghana in 1958. For me as a reader it felt like I could participate in all the experiences in the following decades that built up his knowledge of Africa and the Africans. To a large extent this is due to his style, he can really evoke situations. He doesn't mind spending two paragraphs on someone just sitting in the shadow. Why is he sitting there? What is he thinking? Where did he come from? Kapuscinski also tells you what he doesn't know, what he wonders about, what he still can't understand even if people explain. But it's not just style and composition. It's also how he combines the impartial eye of the anthropologist with feelings of genuine friendship. His feelings are always present: between the lines, moderately, not disturbing his observations. In the sixties a moderate optimism prevails. Ok, he reports about political violence in Zanzibar and Nigeria, but that's nothing compared to later developments. For Kapuscinki himself there is a certain delight: it's working out, he is actually getting to know the people that intrigued him so much. He even seems to like it when he gets malaria. Ok, it hurts, but at least now he knows what this African decease feels like. Moreover his fysical vulnerability seems to demolish the walls of racism: the Tanzanians around him start to trust this sickly white stranger. From the seventies onwards things get nastier. Kapuscinski explains the machinery of tribal violence, warlords and bayaye: the rootless ex-villagers who now crowd the cities, without jobs, without possessions, just hanging around hungry. The low point for me was his account of Liberia in the nineties, where one dictator succeeded the other. The events seemed to be propelled by a sort of mindless, random cruelty. Reading this I felt like the narrator, Kapuscinski, who keeps his feelings implicit, was for the first time really desillusioned and bitter. The chapters afterwards seemed to try and soften the picture a bit, focussing on village life and religion. But the images of cynical warlords and hopeless child armies were humming in the background. I do not often read about this kind of misery. I can only take it from a writer I trust, whose intelligence, commitment and taste make it somehow bearable.
Review by Bookoholic73
16/06/2015
I picked up this book at a friend´s because of the title... and I remember not being able to put it down. I thought that the flow of the writing was magnificent, but was was captivated by the content. This is a book that moves and touches, and several of the observations and adventures have stayed with me. This is a book worth returning to.