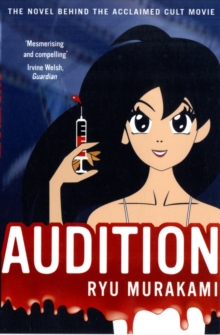 Audition
Paperback / softback
Description
Documentary-maker Aoyama hasn't dated anyone in the seven years since the death of his beloved wife, Ryoko.
Now even his teenage son Shige has suggested he think about remarrying.
So when his best friend Yoshikawa comes up with a plan to hold fake film auditions so that Aoyama can choose a new bride, he decides to go along with the idea.
Of the thousands who apply, Aoyama only has eyes for Yamasaki Asami, a young, beautiful, delicate and talented ballerina with a turbulent past.
But there is more to her than Aoyama, blinded by his infatuation, can see, and by the time he discovers the terrifying truth it may be too late Ryu Murakami delivers his most subtle and disturbing novel yet, confirming him as Japan's master of the psycho-thriller.
Information
Format: Paperback / softback
Pages: 208 pages
Publisher: Bloomsbury Publishing PLC
Publication Date: 04/01/2010
ISBN: 9781408800720