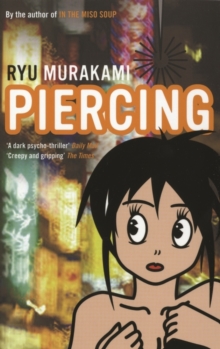 Description
Every night, Kawashima Masayuki creeps from his bed and watches over his baby girl's crib while his wife sleeps.
But this is no ordinary domestic scene. He has an ice pick in his hand, and a barely controllable desire to use it.
Deciding to confront his demons, Kawashima sets into motion a chain of events seeming to lead inexorably to murder.
Information
Format: Paperback
Pages: 192 pages
Publisher: Bloomsbury Publishing PLC
Publication Date: 07/01/2008
ISBN: 9780747593133
Free Home Delivery
on all orders
Pick up orders
from local bookshops
Reviews
Showing 1 - 2 of 2 reviews.
Review by hotchk155
16/06/2015
An odd, disturbing book... central character Kawashima becomes convinced he needs to kill a stranger in order to prevent his urges to harm his own baby daughter. However his painstakingly laid plans for murder fall apart when his intended victim turns out have an even more tenous grip on reality than his own. Its a very tense, chilling read, but a kind of one-dimensional one that would make a great short story but gets diluted a bit as a novel. Still worth a read, however
Review by clfisha
16/06/2015
Having thoroughly enjoyed the eerie, soullessness of In the Miso Soup I jumped at the chance to pick this up cheap. I wish I hadn't bothered.Part of the problem is that it starts with such a strong image: It's midnight and a father is staring down at his new born child, not with love but horror he is holding a ice pick and he is terrified he will use it.After this tense, frightening beginning the book seems to loose aim, the plot shifts and as he struggles to cope and suddenly we are dealing with the beginnings of a serial killer. Then just as the tensions start to bleed through again Murakami shifts the plot yet again to, well I am not sure what, an odd sort of psychopathic farce? He meets stereotypical messed up abused girl and hilarity ensues as they misunderstand each other. Yawn. It's banal in its kookiness, clichéd instead of clever and tries to hard to be surreal.Don't get me wrong it wasn't that bad just dissatisfying.