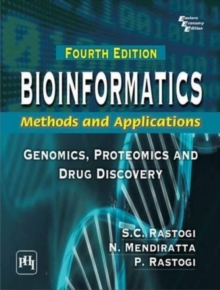 Bioinformatics: Methods and Applications : Genomics, Proteomics and Drug Discovery
Paperback / softback
Description
Designed as a text for students and professionals pursuing careers in the fields of molecular biology, pharmacy and bioinformatics, the fourth edition continues to offer a fascinating and authoritative treatment of the entire spectrum of bioinformatics, covering a wide range of high-throughput technologies.
In this edition, four new chapters are included and two chapters are updated. As a student-friendly text, it embodies several pedagogic features such as detailed examples, chapter-end problems, numerous tables, a large number of diagrams, flow charts, a comprehensive glossary and an up-to-date bibliography.
This book should prove an invaluable asset to students and researchers in the fields of bioinformatics, biotechnology, computer-aided drug design, information technology, medical diagnostics, molecular biology and pharmaceutical industry. NEW TO THE FOURTH EDITION: Includes four new chapters-Introduction to Biological Databases, Introduction to Phylogenetic, Methods of Phylogenic analysis and RNA Predict.
Updates chapters on Information Search and Data Retrieval and Alignment of Multiple Sequences.
Incorporates Problem Sets containing more than 250 problems and Multiple Choice Questions so that students can test their knowledge and understanding.
Key FeaturesState-of-the-art technologies for gene identification, molecular modelling and monitoring of cellular processesData mining, analysis, classification, interpretation and efficient structure determination of genomes and proteomesImportance of cell cycle for discovering new drug targets and their ligandsComputer-aided drug design and ADME-Tox property predictionCompanion website www.phindia.com/rastogi provides useful resources for the teachers as well as for the students.
Information
Format: Paperback / softback
Pages: 648 pages
Publisher: PHI Learning
Publication Date: 30/07/2013
Category: Molecular biology
ISBN: 9788120347854
Also by S. C. Rastogi