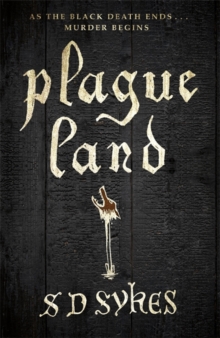 Description
Oswald de Lacy was never meant to be the Lord of Somerhill Manor. Despatched to a monastery at the age of seven, sent back at seventeen when his father and two older brothers are killed by thePlague, Oswald has no experience of running an estate.
He finds the years of pestilence and neglect have changed the old place dramatically, not to mention the attitude of the surviving peasants.
Yet some things never change. Oswald's mother remains the powerful matriarch of the family, and his sister Clemence simmers in the background, dangerous and unmarried.
Before he can do anything, Oswald is confronted by the shocking death of a young woman, Alison Starvecrow.
The ambitious village priest claims that Alison was killed by a band of demonic dog-headed men. Oswald is certain this is nonsense, but proving it - by finding the real murderer - is quite a different matter.
Every step he takes seems to lead Oswald deeper into a dark maze of political intrigue, family secrets and violent strife. And then the body of another girl is found. SD Sykes brilliantly evokes the landscape and people of medieval Kent in this thrillingly suspenseful debut.
Information
Format: Hardback
Pages: 352 pages
Publisher: Hodder & Stoughton General Division
Publication Date: 25/09/2014
Category: Historical mysteries
ISBN: 9781444785777
Other Formats
Paperback from £7.85
Hardback from £14.35
Free Home Delivery
on all orders
Pick up orders
from local bookshops
Reviews
Showing 1 - 2 of 2 reviews.
Review by cathyskye
27/08/2015
In Plague Land, S.D. Sykes does an excellent job in showing how the Plague has turned everything on its head-- from political alliances to the attitudes of the poor toward their "masters." The Plague may have burned itself out, but everyone is still reeling in the aftermath. Entire families and villages wiped out. Land lying fallow because there's no one left to farm it.In this time of catastrophic change Sykes places a remarkable cast. Young Oswald has the advantage of his higher learning in the monastery, but his cloistered life also puts him at a disadvantage. He's ill-equipped to get reluctant, superstitious villagers to work the land. He knows extremely little of current alliances with the local gentry. He has a village priest who has his eye on more earthly prizes, and his mother and sister are worse than a thick cloud of midges. If not for the help of Brother Peter, chances are that Oswald would run screaming back to the monastery to beg for sanctuary.Oswald's investigation stumbles and bumbles, much as his management style at Somerhill Manor. But as he awkwardly goes about his business, readers see the rich tapestry of life and relationships in southern England after the scythe of the Plague has swept through. Food, customs, and the usual panoply of human emotions parade right before our eyes. Sykes had me living in the world she created.If you like historical mysteries that you can sink into and experience, Plague Land is for you. And if you like books with absorbing mysteries and jaw-dropping endings, then Plague Land is most definitely for you. I look forward to S.D. Sykes' next book.
Review by wyvernfriend
27/08/2015
wanted to like it but no, didn't really dislike it either, it fell soundly into meh.Oswald de Lacy has inherited the family estate. He wasn't supposed to, he was in a convent while he had two older brothers who were hale and hearty, but then the plague struck and took with it his father and two brothers and now he has to learn how to be the lord of the manor.When one girl, who is rumoured to be one of his father's by-blows turns up dead and the locals are blaming the supernatural, he has to investigate and the twists and turns continue to complicate things.And I honestly didn't care what happened to the characters. The writer isn't bad and I wouldn't reject another book by them out of hand but I'm not hunting more up.