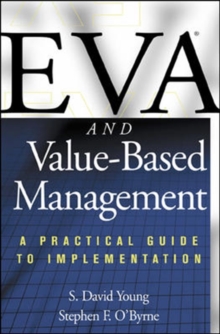 EVA and Value-Based Management: A Practical Guide to Implementation
Hardback
Description
This book provides real-world guidelines for implementing EVA.
Today's most comprehensive and unbiased evaluation of Value-Based Management and EVA Economic Value Added (EVA) and Value Based Management (VBM), despite persistent claims to the contrary, are not magic wands, guaranteeing instant success.
Instead, they are a set of management tools - powerful tools, to be sure, proven to work in case after case - for creating and augmenting shareholder value. And as with any tools, users will achieve the greatest success only by learning and understanding both their strengths and weaknesses."EVA and Value Based Management" is the first book to fully explain all sides of EVA and VBM, and cover the critical factors in harnessing EVA and VBM to build shareholder value.
It provides in-depth coverage of the key steps in implementing EVA, including: determining your cost of capital; using accounting adjustments to make EVA a better measure of performance; identifying value drivers to guide performance improvement; and, tying management compensation to EVA.The sustained creation of shareholder value doesn't happen by accident - it happens because companies plan for it. Let "EVA and Value Based Management" give you the clear, concise, and up-to-date information you need on EVA and VBM - what they are, why they work, and how they can work for you - and then show you how to use that information to reach your own informed conclusions.
Managers - even those from just a quarter century ago - would have a difficult time recognizing today's business climate.In the new world order, companies must prove their worth in both commercial markets (making and selling the best products and ideas) and capital markets (creating value through optimal use of all available resources, all the time).
Those that fall behind in either pursuit will find the climb to market leadership difficult if not impossible. "EVA and Value Based Management" is the first book to frankly and comprehensively discuss the pros and cons of Economic Value Added (EVA) and Value Based Management (VBM) - proven in numerous cases to increase shareholder value while strengthening organizations in which they are successfully implemented.
Written by award-winning INSEAD professor S. David Young and leading management expert Stephen F.O' Byrne, it covers both conceptual and implementation issues, placing a strong emphasis on performance measurement, value drivers, and management compensation.Look to "EVA and Value Based Management" for: a clear explanation of the concepts behind EVA and VBM; a highly practical guide to implementing EVA for performance measurement and incentive compensation, with dozens of real world examples; an honest assessment of the pros and cons of EVA and competing value-based approaches; and, a frank discussion of the company characteristics that help or hinder successful EVA implementation, helping you to decide whether EVA and VBM are right for your organization.Many prominent corporate leaders have long proclaimed - and, even more significant, put to the real-world test - the benefits of EVA.
In "EVA and Value Based Management", management experts S.
David Young and Stephen F. O'Byrne define and discuss EVA, then present a simple, easy-to-understand approach for determining how it will succeed in your organization. The result is an all-inclusive, no-holds-barred overview of value-based management and EVA - and today's most valuable, practical guidebook for implementing a highly effective, performance driven management program.
Information
Format: Hardback
Pages: 493 pages, 10 Illustrations, unspecified
Publisher: McGraw-Hill Education - Europe
Publication Date: 01/12/2000
Category: Accounting
ISBN: 9780071364393
Free Home Delivery
on all orders
Pick up orders
from local bookshops
Also by S. David Young