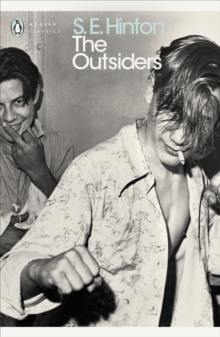 Description
Adapted into an award-winning film by Francis Ford Coppola, and starring Patrick Swayze, Rob Lowe and Tom Cruise, S.E.
Hinton's The Outsiders is a young adult novel of enduring power.
This Penguin Modern Classics edition is published with an introduction by Jodi Picoult, author of My Sister's Keeper.The Greasers and the rich-kid Socs are at war on the Tulsa streets.
Ponyboy, a fourteen-year-old brawler, chainsmoker and dreamer, is a fiercely loyal greaser.
But a single, murderous catastrophe is to wrench him from his old life and overturn everything he thinks he knows.
The Outsiders was an audacious debut written when S.E.
Hinton was only seventeen, laying bare the hopes and terrors between teenage bravado in a world of drive-ins, drag races and switchblades.
It confronted America with a new breed of anti-hero from the wrong side of the class divide, and became a bestselling classic of youthful rebellion.
Susan Eloise Hinton (b. 1950) wrote her first book, The Outsiders, in 1967, when she was seventeen years old.
Hinton is also the author of That Was When, This Is Now (1971), adapted into a film starring Emilio Estevez and Morgan Freeman; Rumble Fish (1975), also adapted into a film by Francis Ford Coppola, starring Mickey Rourke, Nicholas Cage and Dennis Hopper; Tex (1979); Taming the Star Runner (1988), and many others.
Hinton lives in Oklahoma.If you enjoyed The Outsiders, you might like Jack Kerouac's On the Road, also available in Penguin Modern Classics.'Gritty, emotional and very authentic'Jodi Picoult'The Outsiders is a teenage epic'Francis Ford Coppola
Information
Format: Paperback
Pages: 160 pages
Publisher: Penguin Books Ltd
Publication Date: 05/04/2007
ISBN: 9780141189116
Other Formats
Paperback from £3.99
Hardback from £10.00
Free Home Delivery
on all orders
Pick up orders
from local bookshops
Reviews
Showing 1 - 2 of 2 reviews.
Review by edwinbcn
16/06/2015
The outsiders was written by Susan E. Hinton when she was still a high school students. As a novel, it certainly has all the qualities of very good literature, although there are some features which betray the inexperienced hand of its author. For instance, the story is slightly melodramatic and largely predictable, while the main character's interest in literature, reading Gone with the Wind, and the outcome of the novel seem contrived.The outsiders is about two rival gangs, "the Greasers" and "the Socs", divided by social class, and each with a distinct group culture. Some of the members of both gangs attend a local high school, and there are fights and skirmishes between the rival gangs in the neighbourhood. Predictable, one of "the Greasers", Ponyboy softens and falls one of the girls belonging to "the Socs", but before any real romance can develop the gang has a violent clash in which one of "the Socs" is killed. Ponyboy and Johnny go into hiding, as the police will be looking for them. Their shelter, and abandoned church burns down, and Ponyboy and Johnny are the heroes of the day when they rescue a bunch of young children from the burning building. However, the subsequent media attention blows their cover, and the police soon arrive at the hospital where they were taken. Johnny, who shot "the Socs" gang member dies of his injuries, while Ponyboy lives, and starts upon a new life.The outsiders provides an interesting portrayal of gang culture in the 1960s, and is included in the series of Modern Classics of Penguin Books.
Review by katie1802
16/06/2015
Amazingly engrossing, although it's old enough at this point, some of the aspects on teenage life are still so relevant, I truly love this book.<br/><br/>I would honestly love to be friends with most of the Greasers. Aside from their humour and playfulness, the care they show towards one another is really very touching.<br/><br/>The movie was definitely a good adaption, but I would recommend finding the directors cut. You'll know you have it when it starts with Pony coming out of the movies and getting jumped by the soc's.
Also in the Penguin Modern Classics series | View all