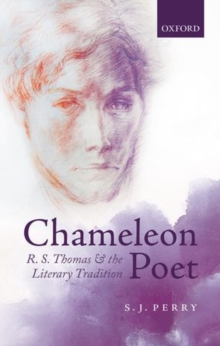 Chameleon Poet : R.S. Thomas and the Literary Tradition
Hardback
Description
For many decades, R.S. Thomas has been portrayed according to terms that he himself helped to define.
Drawing on the poet's status as a passionate defender of the Welsh nation, scholars have followed his lead in emphasising the Welsh credentials and dimensions of his work, tacitly affirming his chosen cultural identity.
Chameleon Poet, however, goes against the grain of previous studies by revealing Thomas as profoundly indebted to the English literarycanon.
Ultimately, Thomas emerges as a classic example of what Keats famously described as the 'chameleon poet', and through this prism S.J.
Perry illuminates the various dimensions of his relationship with the literary tradition. Through detailed consideration of Thomas's life and writing and extensive archivalresearch into his reading and correspondence, Perry examines Thomas's early immersion in the work of the English Romantics, through to his discovery of Irish and Scottish writing, his response to key poetic figures, such as Herbert, Tennyson, Edward Thomas and T.S.
Eliot, his involvement with the influential journal Critical Quarterly, which inspired a creative dialogue with esteemed contemporaries like Ted Hughes and Philip Larkin, and his late engagement with the traditions of theelegy as conceived within Thomas Hardy's Poems of 1912-13.
As well as suggesting new readings and associations, this groundbreaking exposition of R.S.
Thomas's art forms part of a wider investigation into the nature of the British poetic tradition and archipelagic identity, showing how Thomas's Welshness was infact a hybrid construct, emerging from his imaginative interaction with the literary cultures of England, Scotland and Ireland as much as those of his homeland.
Information
Format: Hardback
Pages: 308 pages, 2 black-and-white illustrations
Publisher: Oxford University Press
Publication Date: 01/12/2013
Category: Literary studies: from c 1900 -
ISBN: 9780199687336