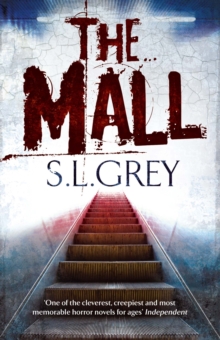 Description
Dan works at a bookstore in a deadly dull shopping mall where nothing ever happens.
He's an angsty emo-kid who sells mid-list books to mid-list people for the minimum wage.
He hates his job. Rhoda has dragged her babysitting charge to the mall so she can meet her dealer and score some coke.
Now the kid's run off, and she has two hours to find him.
She hates her life. Rhoda bullies Dan into helping her search, but as they explore the neon-lit corridors behind the mall, disturbing text messages lure them into the bowels of the building, where old mannequins are stored in grave-like piles and raw sewage drips off the ceiling.
The only escape is down, and before long Dan and Rhoda are trapped in a service lift listening to head-splitting musak.
Worst of all, the lift's not stopping at the bottom floor. Plummeting into the earth, Dan and Rhoda enter a sinister underworld that mirrors their worst fears.
Forced to complete a series of twisted tasks to find their way out, they finally emerge into the brightly lit food court, sick with relief at the banal sight of people shopping and eating.
But something feels different. Why are the shoppers all pumped full of silicone? Why are the shop assistants chained to their counters? And why is a cafe called McColon's selling lumps of bleeding meat?
Just when they think they've made it back to the mall, they realise their nightmare has only just begun...
Information
Format: Paperback
Pages: 320 pages
Publisher: Atlantic Books
Publication Date: 01/06/2012
Category: Horror & ghost stories
ISBN: 9781848878877
Free Home Delivery
on all orders
Pick up orders
from local bookshops
Reviews
Showing 1 - 1 of 1 reviews.
Review by clfisha
16/06/2015
Dan is an Emo loser who works in a giant bland mall in Johannesburg and Rhoda (a strung out junky) is about to seriously ruin his day, dragging him through back corridors searching for the lost kid she was babysitting. Which is bad enough, but then they get lost, some psycho keeps sending text messages and the power goes. Then something starts chasing them in the dark...I don't usually like horror novels, grotesque but dull is my usual impression and this proved no exception (use the fact that I also thought this about Dawn of the Dead as your gauge). However I can see it has positives for fans of the genre. It is a refreshing new take on the consumerism/horror melding and it does have some nice set pieces, particularly the descent into hellish mall. Darkness and mannequins sure, but also blinding mirrors and dark water and the lost dregs of society. The other mall with its amusing slogans and grotesque inhabitants, are suitably twisted and eerie. What I can't forgive is it commits the cardinal sin of the genre: characters that are far too stupid to live. Seriously I nearly threw the book at the wall. They are also unlikeable and, I admit I might be picking holes here, but I didn't find them particularly believable either. Talk about twisting to fit the predictable ending. I could rant on but I won't, I don't think it's a terrible book but just a very bad fit for meI can't recommend it but horror fans might want to check out other reviews.