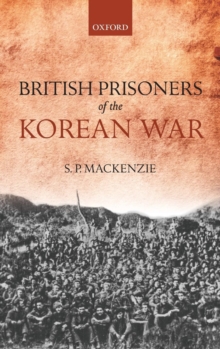 British Prisoners of the Korean War
Hardback
Description
During the Korean War nearly a thousand British servicemen, along with a handful of British civilians, were captured by North Korean and Red Chinese forces.
In various camps in the vicinity of Pyongyang and villages along the Yalu River these men found themselves subjected to a prolonged effort by the enemy to undermine their allegiance to the Crown and enlist them in various propaganda campaigns directed against the UN war effort.
British Prisoners of the korean War is the first academic study to examine in detail exactly what happened to the major groups of British military and civilian prisoners held in different locations at various junctures between 1950 and 1953.
It explores the extent to which factors such as exposure to the actions of the North Koreans as against the Red Chinese, evolving physical conditions, enemy re-education efforts, communist attempts at blackmail, British attitudes towards theAmericans, and personal background and leadership qualities among captives themselves influenced the willingness and ability of the British prisoners to collaborate or resist.
Thanks to the availability of hitherto classified or underutilized source materials, it is now possible to test the common popularassumption-based on official accounts and memoirs from the 1950s-that, in marked contrast to their American cousins, British captives in the Korean War were pretty much immune to communist efforts at subverting their loyalty.
The results suggest that British attitudes and actions while in enemy hands were rather more nuanced and varied than previously assumed.
Information
Format: Hardback
Pages: 176 pages, 1 map
Publisher: Oxford University Press
Publication Date: 25/10/2012
Category: British & Irish history
ISBN: 9780199656028
Free Home Delivery
on all orders
Pick up orders
from local bookshops