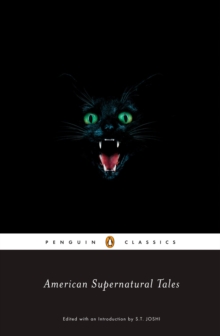 American Supernatural Tales
Paperback
Description
As Stephen King will attest , the popularity of the occult in American literature has only grown since the days of Edgar Allan Poe.
American Supernatural Tales celebrates the richness of this tradition with chilling contributions from some of the nation's brightest literary lights, including Poe himself, H.
P. Lovecraft, Shirley Jackson, Ray Bradbury, Nathaniel Hawthorne, and-of course- Stephen King.
By turns phantasmagoric, spectral, and demonic, this is a frighteningly good addition to Penguin Classics.
Information
Format: Paperback
Pages: 432 pages
Publisher: Penguin Books Ltd
Publication Date: 01/10/2007
Category: Anthologies (non-poetry)
ISBN: 9780143105046
Free Home Delivery
on all orders
Pick up orders
from local bookshops
Reviews
Showing 1 - 3 of 3 reviews.
Review by fantasymag
16/06/2015
Editor S.T. Joshi has compiled a fine introduction to American (let's be daring and use the "h" word) horror literature. He provides a biographical introduction for each of the 26 well-selected stories and an informative overview of the subject with his opening essay. Joshi also offers solid suggestions for further reading while pointing out the significant lack of any sound historical discussion of supernatural fiction since Les Edwards's Living in Fear (published in 1975 — and, it is safe to say, a great deal has happened since then). He further justifiably asserts that although horror has been well-charted bibliographically, it lacks analysis and criticism. [Considering academia's current concentration on and subsequent publication concerning horror film rather than literature, there may be little hope of this changing, but college (or precocious high schooler) coursework based on this volume would certainly provide a good basic grounding for future critics.]Robert Bloch, Richard Matheson, Charles Beaumont, Fritz Leiber, Shirley Jackson, Ray Bradbury, and King are all put into viable literary context. Both the casual reader and (the often behind-the-times) horror maven are brought up to the dawn of the current century with the inclusion of Dennis Etchison's modern classic "The Night Shift", Thomas Ligotti's "Vasterian", Karl Edward Wagner's "The Endless Night," Norman Partridge's "The Hollow Man," Joyce Carol Oates's "Demon," David J. Schow's "Last Call for the Sons of Shock," and Caitlin Kiernan's "In the Waterworks (Birmingham, Alabama 1888)." T.E.D. Klein's 1972 novella "The Events at Poroth Farm" is an interesting, if possibly debatable, choice. Further, the small press and the Internet are seen as the "predominant" venues today for horror as a whole. This may be true of the short form, but supernatural novels are not so confined.And therein lies part of the worth of this tome: it serves as a valuable starting point for thoughtful evaluation and discussion of American (and other) horror literature. <i>American Supernatural Tales</i> provides both fiction and framework that offer plenty to chew on and minor points to quibble over. Anyone with a true interest in the subject must consider this widely available and inexpensive edition required.
Review by pmcnamee67
16/06/2015
Great anthology of lesser known, but still good tales of horror and the supernatural. I enjoyed this one a lot!
Review by turtlesleap
16/06/2015
Excellent collection of American supernatural short stories by a distinguished array of authors. One of the best features of this collection lies in the excellent overview of the genre that serves as an introduction to the collection and the brief biographies of the authors that preface each story.