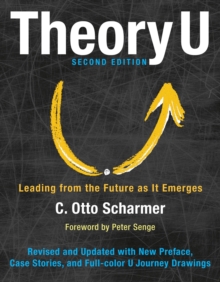 Theory U: Leading from the Future as It Emerges
Hardback
Description
Ten years ago, Otto Scharmer invited us to see the world in new ways and in so doing discover a revolutionary approach to leadership.
Now Scharmer has revised, updated, streamlined, and enhanced his seminal text.
In Theory U Scharmer shows that what we pay attention to and how we pay attention are key to what we create.
What prevents us from attending to situations more effectively is that we aren't fully aware of and in touch with the inner place from which attention and intention originate.
This is what Scharmer calls our blind spot. By moving through Scharmer's U process, we consciously access the blind spot and learn to connect to our authentic self - the deepest source of knowledge and inspiration - in the realm of "presencing," a term coined by Scharmer that combines the concepts of presence and sensing.
This second edition features a new preface in which Scharmer identifies five transformational social trends he's seen emerge in the past decade and describes how practitioners around the world have adapted and applied the U process to an amazingly diverse number of innovation projects in business, government, and civil society. There are also eight color pages of drawings by artist Kelvy Bird that illustrate and illuminate the concepts in the book and new resources for applying the lessons of the book.
Theory U offers a rich diversity of compelling stories, examples, exercises, and practices that allow leaders and entire organizations to shift awareness, connect with the best future possibility, and gain the ability to realize it.
Information
Format:Hardback
Pages:544 pages
Publisher:Berrett-Koehler
Publication Date:15/08/2016
Category:
ISBN:9781626567986