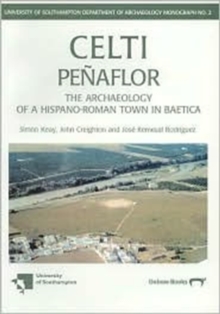 Celti (Penaflor) : The Archaeology of a Hispano-Roman Town in Baetica. Survey and Excavations 1987-1992
Paperback / softback
Description
Southern Spain's archaeological record is a rich one but for the Roman period archaeological research has yielded limited results.
The major settlement of Penaflor, the site of ancient Cleti, was selected for excavation for its good epigraphic and historical record and its excellent uncluttered stratigraphic sequence.
The excavations aimed to establish, amongst other things, the date and cultural context for the first establishment of the site, the site'ss regional context and the Romanisation of the town during the late Republican period.
This book, which is part of a wider programme of publication, is intended to provide an overview of the project as a whole but excludes some of the more detailed analyses and appendices which are accessible in a University of Southampton web page.
Information
Format: Paperback / softback
Pages: 224 pages, many b/w figs
Publisher: Oxbow Books
Publication Date: 01/12/2000
Category: Archaeology by period / region
ISBN: 9781842170359