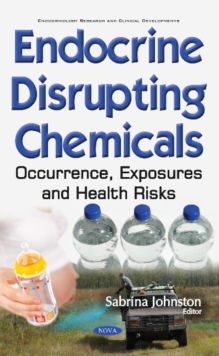 Endocrine Disrupting Chemicals : Occurrence, Exposures & Health Risks
Hardback
Description
Wide variety of pesticides and other synthetic chemicals may disrupt the normal function of the endocrine system, cause alteration and also attack the immune system of humans and wildlife at very low concentration levels.
Chapter One of this book provides an overview of analytical methods, including sample preparation steps, chromatographic separation and detection of endocrine disrupting pesticides in a variety of food, environmental and biological matrices.
Chapter Two studies endocrine disrupting compound (EDC) exposure from recycled wastewater compared to other water related risks in developed and developing nations.
Chapter Three summarizes the role of EDCs on pregnancy and birth outcomes, included but not limited to fertility problems, premature birth, low birth weight, and miscarriage along with in-vitro, animal, and epidemiological studies.
In the last chapter, the worst EDCs will be revealed and their related potential hazardous health risks to humans are discussed.
Furthermore, suggestions to help the reader avoid such toxic chemicals are presented.
Information
Format: Hardback
Pages: 157 pages
Publisher: Nova Science Publishers Inc
Publication Date: 01/05/2016
Category: Endocrinology
ISBN: 9781634852319