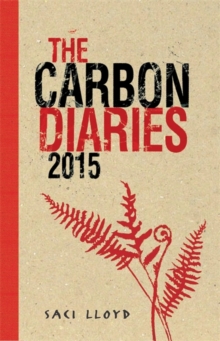 The The Carbon Diaries 2015 : Book 1
Paperback
Description
It's January 1st, 2015, and the UK is the first nation to introduce carbon dioxide rationing, in a drastic bid to combat climate change.
As her family spirals out of control, Laura Brown chronicles the first year of rationing with scathing abandon.
Will her mother become one with her inner wolf? Will her sister give up her weekends in Ibiza? Does her father love the pig more than her? Can her band the dirty angels make it big? And will Ravi Datta ever notice her? In these dark days, Laura deals with the issues that really matter: love, floods and pigs.
The Carbon Diaries 2015 is one girl's drastic bid to stay sane in a world unravelling at the seams.
Information
Format: Paperback
Pages: 384 pages, b/w graphics throughout
Publisher: Hachette Children's Group
Publication Date: 04/09/2008
Category: General
ISBN: 9780340970157
Free Home Delivery
on all orders
Pick up orders
from local bookshops
Reviews
Showing 1 - 5 of 6 reviews.
Previous | Next
Review by Clumsyhaze
16/06/2015
Set in the not too distant future, a believable account of how life would be when global warming hits. Based on the perspective of a teenager.
Review by HatsForMice
16/06/2015
Great ideas and a good story; just couldn't connect to the characters very well. And Laura doesn't know what a rook is, which is the kind of thing that annoys me.
Review by deargreenplace
16/06/2015
This is a great concept: the UK is rationing carbon emissions in the near future, much like food rationing in previous world wars.16 year-old Laura Brown is the author of the diaries - a middle-class London teenager who plays bass in a band, has a crush on the school hottie and a love-hate relationship with her sister Kim.Kim is tangled up in the black market for carbon credits, arranging meetings for defiant 4x4 drivers who just can't give up their fortnight in Tuscany. Laura's parents seem to be growing apart, particularly after her dad loses his job as a lecturer in Travel & Tourism - an industry that is dying.Laura and her friends and neighbours have to work together when London is threatened by a huge storm that might wipe out the city.As I said, a great concept. Didn't care for any of the characters much.
Review by KarenBall
16/06/2015
Laura Brown lives in London, and her diary documents 2015, the first year of "carbon rationing" in Great Britain. Climate change has become such a problem that the government decides to cut all carbon emissions by 60% -- every person is issued a card that tracks their allowed use of carbon for the year. Everything is tracked: home heating, travel, food, use of cell phones and other electronics... and the limits of their energy seriously cut into Laura's band rehearsal time and social life. Her family starts to fall apart. Her evil sister tries to escape (and uses too many carbon points), her father's job as head of Travel and Tourism is eliminated, and her mother joins a radical women's group. Meanwhile, the weather through the year swings from freezing to extreme heat and drought to flooding rains -- it's almost like a nonverbal character in the story. The diary includes various clippings and emails and other bits that help to tell the story. Some language and more mature content, but appropriate to the characters and the storyline. Best for 8th grade and up.
Review by librarybrandy
16/06/2015
Laura Brown is not thrilled when London passes out carbon ration cards. Not only will it be that much harder to jam with her band, the Dirty Angels, but now she has to put up with her parents and sister, who are all reacting in strange ways. Her mom is distraught at needing to take the bus instead of driving; her sister (bitchy at the best of times) racks up so much carbon debt that she's enrolled in the mandatory Carbon Offenders program. Dad gets fired from his job, teaching about travel (because who can travel under rationing?) and ultimately ends up with a pig, which gives you some idea how stable <i>his</i> reaction to rationing is. <br/><br/>Laura's got her own things going on--besides the band, she's having issues with her schoolwork (because who can concentrate) and boys (who are jerks, sweet and beautiful jerks), and mainly the craziness that is her family. Then the climate shifts just a little bit more, and rationing ratchets up some more. It's not just carbon, but it'll be water, too, thanks to the drought. Luckily, it finally rains--but the rain doesn't stop, and the levies aren't enough to keep London from flooding.<br/><br/>It's one thing after another, this first year of rationing. It's hard to know if this should be called dystopian (because of the government swooping in and regulating everything, and keeping close watch on what each citizen is doing via their carbon-ration cards) or apocalyptic, because, well, the world's falling apart, and quickly.<br/><br/>A good choice for budding environmentalists, or those into music/punk/band scenes. Perfectly appropriate for 7th grade and up; 9th and up will get more out of it, though.