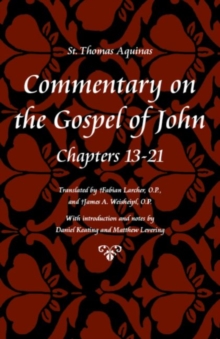 Commentary on the Gospel of John Bks. 13-21
Paperback / softback
Description
Thomas Aquinas possessed excellent knowledge of the commentaries of Origen, John Chrysostom, and Augustine.
On the basis of this foundation, he produced his own commentary on the Gospel of John as part of his task as a Master of the Sacred Page.
Considered a landmark theological introduction to the Fourth Gospel, these lectures were delivered to Dominican friars when Aquinas was at the height of his theological powers, when he was also composing the Summa theologiae.
For numerous reasons, the Summa has received far more attention over the centuries than has his Commentary on the Gospel of John.
However, scholars today recognize Aquinas's biblical commentaries as central sources for understanding his theological vision and for appreciating the scope of his Summa theologiae.
The first English translation of Aquinas's Commentary on the Gospel of John by Fabian Larcher and James Weisheipl, originally published nearly two decades ago and long out of print, is available to scholars and students once again with this edition.
Published in three volumes simultaneously, it includes a new introduction and notes pointing readers to the links between Aquinas's biblical commentary and his Summa theologiae.
When a verse from the Gospel of John is directly quoted in the Summa theologiae, the editors note this in the Commentary.
Aquinas's patristic sources, including Origen and Augustine, are carefully identified and referenced to the Patriologia Latina and Patrologia Graeca.
The Commentary's connections with Aquinas's Catena Aurea are also identified. ""While the most significant aspect of the publication is Aquinas's text itself, the introduction and notes provide excellent aides to the reader and enrich the text.
Daniel Keating and Matthew Levering contribute a clear and helpful introduction to the translation, providing brief but very useful explanatory notes about early writers and controversies.""--David M.
Gallagher. The three volumes in the Commentary on the Gospel of John will be sold individually and as a set.
Information
Format: Paperback / softback
Pages: 288 pages
Publisher: The Catholic University of America Press
Publication Date: 15/09/2010
Category: Christian theology
ISBN: 9780813217345