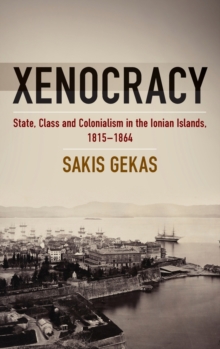 Xenocracy : State, Class, and Colonialism in the Ionian Islands, 1815-1864
Hardback
Description
Of the many European territorial reconfigurations to result from the Congress of Vienna, the Ionian State remains among the least understood.
Xenocracy offers a much-needed account of the region during the ensuing half-century of oversight by Great Britain-a period that embodied all of the contradictions of British imperial expansion.
Administrators deliberately pursued liberal reforms and fostered the growth of a middle class that was instrumental in building the colonial state.
However, Ionian finances deteriorated and fissures appeared along class lines, presenting a significant threat to social stability.
As author Sakis Gekas shows, the ordeal fueled an ambivalence toward Western Europe, anticipating the "neocolonial" condition with which the Greek nation struggles even today.
Information
Format: Hardback
Pages: 380 pages
Publisher: Berghahn Books
Publication Date: 20/12/2016
Category: European history
ISBN: 9781785332616