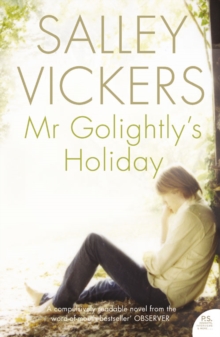 Mr Golightly's Holiday
Paperback
Description
Beautifully rejacked edition of this wonderful novel from the best-selling author of `Miss Garnet's Angel' and `Instances of the Number 3'.Many years ago Mr Golightly wrote a work of dramatic fiction which grew to be an international best-seller.
But his reputation is on the decline and he finds himself out of touch with the modern world.He decides to take a holiday and comes to the ancient village of Great Calne, hoping to use the opportunity to bring his great work up to date.
But he soon finds that events take over his plans and that the themes he has written on are being strangely replicated in the lives of the villagers he is staying among.He meets Ellen Thomas, a reclusive artist, young Johnny Spence, an absconding school boy, and the tough-minded Paula who works at the local pub.
As he comes to know his neighbours better, Mr Golightly begins to examine his attitude to love, and to ponder the terrible catastrophe of his son's death. And as the drama unfolds we begin to learn the true and extraordinary identity of Mr Golightly and the nature of the secret sorrow which haunts him links him to his new friends.Mysterious, light of touch, witty and profound, `Mr Golightly's Holiday' confirms Salley Vickers's reputation as one of our most original and engaging novelists.
Information
Format: Paperback
Pages: 368 pages
Publisher: HarperCollins Publishers
Publication Date: 04/05/2004
ISBN: 9780007156481
Free Home Delivery
on all orders
Pick up orders
from local bookshops
Reviews
Showing 1 - 3 of 3 reviews.
Review by helenbarclay
16/06/2015
Lovely mellow novel, really witty, the gentle humour is consistant throughout the book. It's a marvellous idea with a twist I just didn't see coming. I think it may be even funnier second time round.
Review by chicjohn
16/06/2015
Review by eleanor_eader
16/06/2015
There are two pages of review quotes at the beginning of my paperback copy of this book, and several on the back cover, and I can't help feeling that each of the contributors has found something within that I missed. While readable, <i>Mr. Golightly's Holiday</i> was nowhere near as strong, thoughtful, or beautifully written as <i>Miss Garnet's Angel</i>, which had a deft, light touch to the sadness and vivid, un-stereotyped characters.The premise of this one feels like a Reader's Digest magazine story; a bit too kitsch to be taken seriously, despite the philosophy which, while elbowed-in in places, was at least thought provoking.Mr Golightly is God. There's no attempt at mystery in this matter; he is a white, good natured older gentleman (and Vickers could have thought a bit harder before validating <i>that</i> stereotype) who has come to the village of Great Calne, in Dartmoor, to attempt to write a 'new bestseller'. Procrastination, village life, cryptic emails and writer's block all conspire to keep him in a state ranging from benign frustration to deep sorrow over remembered loss, while becoming embroiled in a local matter of family history.Some of it is clever, much of it is thoughtful, sadness is well-evoked, and the language is always readable, but most of the characters lack conviction and this really didn't take off for me at all.Recommendation: read <i>Miss Garnet's Angel</i> and decide if you like Salley Vicker's style enough to read something less engaging before reading <i>Mr. Golightly's Holiday</i>.