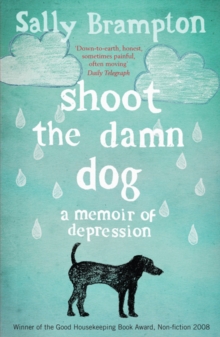 Shoot the Damn Dog : A Memoir of Depression
Paperback
Description
"Shoot the Damn Dog" blasts the stigma of depression as a character flaw and confronts the illness Winston Churchill called 'the black dog', a condition that humiliates, punishes and isolates its sufferers.
It is a personal account of a journey through (and out of) severe depression, as well as being a practical book, offering ideas about what might help.
With its raw, understated eloquence, it will speak volumes to anyone whose life has been haunted by depression, as well as offering help and understanding to those whose loved ones suffer from this terrifying condition.
Information
Format: Paperback
Pages: 336 pages
Publisher: Bloomsbury Publishing PLC
Publication Date: 01/01/2009
Category: Memoirs
ISBN: 9780747572459
Free Home Delivery
on all orders
Pick up orders
from local bookshops
Reviews
Showing 1 - 2 of 2 reviews.
Review by Greentree55
16/06/2015
What a great book for those who have lived through depression or know someone who has. In fact, even if you don't know someone with depression yet, the odds are that you will sometime during your life. This book describes it from the inside--how it feels to be depressed, to have well meaning people make insensitive and ignorant remarks about it, to even have some doctors treat their patients with depression as though they are on a conveyor belt. Depression is more than just feeling a little blue, or taking a pill and suddenly everything is all right again. If reading this book doesn't make you see this illness in a clearer light, nothing will.
Review by DubaiReader
16/06/2015
An excellent memoir.This review is from: Shoot the Damn Dog: A Memoir of Depression (Paperback)I was really impressed with this book. It was brutally honest about the desperate condition known as depression, yet it also gave hope for sufferers and practical tips to direct those who can see no way out. Written from first hand experience by a sufferer who does not respond to anti-depression medcation (30% of all depressives), and who reached the depths of despair that were hard to read about, let alone live through, it still managed an upbeat note towards the end.Sally Brampton was a driven, highly motivated woman. She was editor of two well known magazines, Elle and Red, and a journalist for many major newspapapers. Then her marriage collapsed and her ability to cope seemed to crumble. Soon after that she was sacked from Red and sank into major depression. This was not an inability to be cheerful and see the bright side of life, this was a total, devastating inability to function on any level - a highly literate woman found herself unable even to read. Only her young daughter, Molly, kept her alive, though she did make a couple of attempts at suicide.It took several years and a bout of alcoholism, before Sally managed to drag herself back into the land of the living. But the important fact is that she did. And having done so, she wrote this excellent memoir to help other sufferers see the light at the end of the tunnel.Not everything will work for everyone, but the author gained great benefit from group therapy, private therapy (with an empathetic therapist), yoga and meditation.My copy is littered with stick-it notes marking the parts I found inspiring and I am hoping that the depressive close to me can be persuaded to read this and benefit from it.