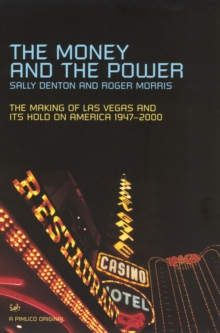 The Money and the Power : The Rise and Reign of Las Vegas
Paperback
Description
Sally Denton and Roger Morris make clear how and why Las Vegas became the greatest 'business success story' of the twentieth century, and how the rest of America ensured this success by contributing capital as well as customers.
Headquarters of a trillion-dollar worldwide empire, the site of unprecedented political and economic power, Las Vegas is by no means an aberrant sin city.
Denton and Morris demonstrate how it has grown out of, and reflects, a corruption and a worship of money that have crept into American life since Prohibition.
They trace the original funds for the founding of the Las Vegas we know today to nationwide narcotics trafficking.
They show how deeply a multiethnic criminal syndicate, in part feeding off gambling profits and the skim in Las Vegas, came to influence American politics and the larger society, and how pervasively its 'style of business' has penetrated the entire nation. Denton and Morris detail the amazing rise and reach of Meyer Lansky - the mind that ran the city; exactly how criminals, politicians, and businessmen worked together to control Las Vegas; the curious interplay of the city with the fates of Joseph, John F., and Robert Kennedy; how Mormon bankers and Wall Street financiers have bankrolled and profited from casinos ruled by organised crime; how a handful of dedicated journalists and law enforcement officers were destroyed before they could expose the city's secrets. The Money and the Power is a detailed and illuminating chronicle of an extraordinary place and time - and a provocative reinterpretation of twentieth-century American history.
Information
Format: Paperback
Pages: 496 pages
Publisher: Vintage Publishing
Publication Date: 06/06/2002
Category: History of the Americas
ISBN: 9780712668552
Free Home Delivery
on all orders
Pick up orders
from local bookshops