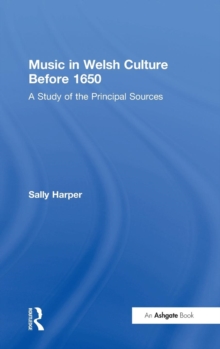 Music in Welsh Culture Before 1650 : A Study of the Principal Sources
Hardback
Description
Music in Wales has long been a neglected area. Scholars have been deterred both by the need for a knowledge of the Welsh language, and by the fact that an oral tradition in Wales persisted far later than in other parts of Britain, resulting in a limited number of sources with conventional notation.
Sally Harper provides the first serious study of Welsh music before 1650 and draws on a wide range of sources in Welsh, Latin and English to illuminate early musical practice.
This book challenges and refutes two widely held assumptions - that music in Wales before 1650 is impoverished and elusive, and that the extant sources are too obscure and fragmentary to warrant serious study. Harper demonstrates that there is a far wider body of source material than is generally realized, comprising liturgical manuscripts, archival materials, chronicles and retrospective histories, inventories of pieces and players, vernacular poetry and treatises.
This book examines three principal areas: the unique tradition of cerdd dant (literally 'the music of the string') for harp and crwth; the Latin liturgy in Wales and its embellishment, and 'Anglicised' sacred and secular materials from c.1580, which show Welsh music mirroring English practice. Taken together, the primary material presented in this book bears witness to a flourishing and distinctive musical tradition of considerable cultural significance, aspects of which have an important impact on wider musical practice beyond Wales.
Information
Format: Hardback
Pages: 462 pages
Publisher: Taylor & Francis Ltd
Publication Date: 28/04/2007
Category: Early music (up to c 1000 CE)
ISBN: 9780754652632
Other Formats
Paperback / softback from £39.19
EPUB from £39.59
PDF from £39.59