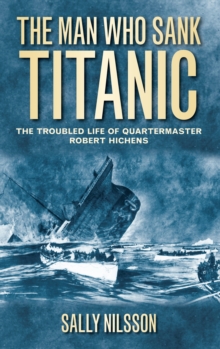 The Man Who Sank Titanic : The Troubled Life of Quartermaster Robert Hichens
Paperback
Description
Robert Hichens has gone down in history as the man who was given the famous order to steer the Titanic away from the iceberg and failed.
Following this, his falling out with the `Unsinkable Molly Brown' over the actions of the lifeboats saw him branded a coward and his name indelibly tarnished.
A key witness at both US and British Inquiries, Robert returned to a livelihood where fellow crewmen considered him jinxed.
But Robert had a long career and was a hardworking, ambitious seaman.
A fisherman at 19, he quickly became a junior officer in the merchant navy.
In the Second World War he was part of a cargo ship convoy on route to Africa where his ship dodged mines, U-boats and enemy aircraft.
To Robert, being at sea was everything but the dark memories of the Titanic were never far away and in 1933 a failed murder attempt after a bitter feud nearly cost Robert his life.
Here Robert's great-granddaughter Sally Nilsson seeks to set the record straight and reveal the true character of the man her family knew.
This is one man's story of survival, betrayal and determination.
Information
Format: Paperback
Pages: 144 pages
Publisher: The History Press Ltd
Publication Date: 01/09/2011
ISBN: 9780752460710
Free Home Delivery
on all orders
Pick up orders
from local bookshops
Reviews
Showing 1 - 1 of 1 reviews.
Review by loveofreading
16/06/2015
Sally Nilsson's The Man Who Sank Titanic: The Troubled Life of Quartermaster Robert Hichens is the biographical/nonfiction story of her ancestor. Hichens was at the wheel of Titanic at the time of the collision, and manned lifeboat six, famously telling Molly Brown to "shut that hole in your face."I've always been fascinated with the tragic story of Titanic, but it can be difficult to find nonfiction books that are suited to your reading style and preferences. This is an accessible, detailed, and well-written book that touches on the before, during and after of the world's most famous maritime disaster.Although part of Nilsson's thesis is to show that Robert Hichens was not the cold, uncaring man he is often painted as, the book doesn't read with a heavy bias. Nilsson treats the history with honesty and sticks to the facts, including the good, the bad, and the unclear, and leaving the reader to form their own opinion.Other interesting facts include crew hierarchy, the ship's operations, the early parts of the voyage, other key witnesses and famous passengers, as well as emergency procedures. Nilsson even goes so far as to compare and draw parallels with James Cameron's film, which was incredibly interesting and a valuable tool to help the reader sort out fact and fiction.The legal proceedings were particularly interesting and handled well. Nilsson covers the questioning of key witnesses and speaks to the efforts of the White Star Line to conceal the gross negligence that inarguably occurred on April 12th. The book includes transcripts, glossy photographs, unpublished research, diagrams, and a helpful index. The writing style and flow of the narrative makes it easy to submerge one's self in the facts and to really appreciate the magnitude of the disaster, even after the survivors reached land.There is much to be learned from this book. We come to understand the man who steered the ship into the iceberg and why he is often painted as a coward and a bully. More importantly, we learn to sympathize with him, and understand how his reputation came about.Whether you're a novice or a well-read Titanic enthusiast, this book is definitely worth reading. The book opened my eyes to the determination of the world to blame someone for the disaster, but the problems were so many that it is impossible to find blame with a specific person or persons. Along with many interesting facts, I also took this away from the book that it could be said that surviving was not a prize. For some, to live with the shame, the memories of the sounds of 1500 people who went into the ocean, the blame, and the guilt, surviving was not easy. And for some, like Robert, sometimes surviving was a fate worse than death.4 Stars