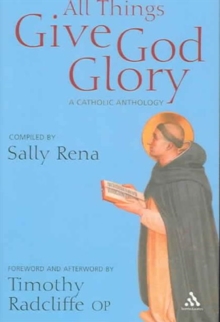 All Things Give God Glory : An Anthology of Catholic Devotion
Hardback
Description
An anthology of mainly Catholic writings, which have given strength and courage to the compilers in times of hardship and difficulty.
A book of hope. The compilers of this anthology (who are cousins) have assembled texts from a wide range of sources.
Sally Rena in particular, has endured much personal hardship and loss, and the origins of this anthology lie in her own personal needs.
As she coped with the problems she faced, she gathered together texts which she found gave her courage, hope and inspiration.
The result is an outstanding collection of material, ranging from St Augustine to Ruth Burrows, Malcolm Muggderidge, Rerne Voillaume and Vincent McNab.
The book is full of the most pleasant surprises for it also contains words of encouragement from writers like Eric Newby, Willa Cather, Osip Mandelstam.
There is a text from Napoleon, and an outstanding short passage by Albert Einstein called "The Sensation of the Mystical" - a remarkable piece of writing for a scientist.
The writers are mainly drawn from the Catholic tradition, however, and important contributions are from Chesterton, Teresa of Avila, Newman and Thomas Merton. This beautiful anthology has been collected over a number of years and each extract is carefully set in a sequence.
The book has its own rhythm. Along with Victor Gollancz's "God of a Hundred Names" and Elizabeth Basset's "Love is My Meaning", this is an anthology with sales for many years ahead.
Sally Rena has written an Introduction explaining the origins and sense of the anthology.
Fr Timothy Radcliffe has written a Foreword describing the style, content and ethos of the books as a whole.
Information
Format: Hardback
Pages: 256 pages
Publisher: Bloomsbury Publishing PLC
Publication Date: 10/11/2005
ISBN: 9780860124153
Free Home Delivery
on all orders
Pick up orders
from local bookshops