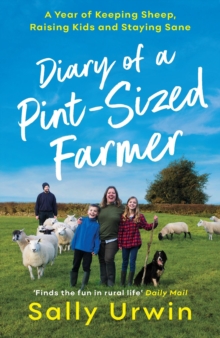 Diary of a Pint-Sized Farmer : A Year of Keeping Sheep, Raising Kids and Staying Sane
Paperback / softback
Description
Sally Urwin and her husband Steve own High House Farm in Northumberland, which they share with two kids, Mavis the Sheepdog, one very Fat Pony, and many, many sheep.
Set in a beautiful, wild landscape, and in use for generations, it's perfect for Sally's honest and charming account of farming life.
From stock sales to lambing sheds, out in the fields in driving snow and on hot summer days, Diary of a Pint-Sized Farmer reveals the highs, lows and hard, hard work involved in making a living from the land.
Filled with grit and humour, newborn lambs and local characters, this is the perfect book for anyone who has ever wondered what it's like on the other side of the fence. 'I am going to do the whole bloody lambing. I'm going to lamb all the lambs. I imagine myself lean and strong, with thin thighs, in attractive waterproof overalls, striding through the lambing shed like I own it. I spend the rest of the evening searching through eBay for waterproof trousers, short leg, size 14, that don't look like a pair of plastic bags stitched together at the crotch.'
Information
Format: Paperback / softback
Pages: 256 pages
Publisher: Profile Books Ltd
Publication Date: 05/03/2020
Category: Memoirs
ISBN: 9781788160704