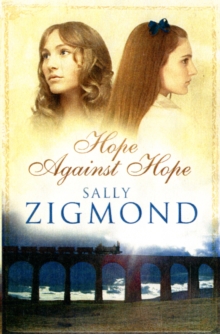 Hope Against Hope
Paperback
Description
Stoical and industrious Carrie and carefree and vivacious May lose both home and livelihood when their Leeds pub is sold out from under them to make way for the coming of the railway.
They head for Harrogate to find work and lodging in the spa town's burgeoning hotel trade.
But the sisters fall prey to fraudsters and predators and are also driven apart by misunderstanding, pride and a mutual sense of betrayal and resentment.
May's fate is a high-class brothel from which her escape leads only to hunger in the slums of Paris.
Carrie becomes a virtual slave to the vicious hostess of a filthy boarding house and the victim of her vindictive son.Alex Sinclair, a bold and warm-spirited Scot, has eschewed the wishes of his father to become a railway engineer.
His companion, Charles Hammond is the dissolute heir to a vast fortune, withheld from him by an overbearing mother and grasping stepfather.
Charles bides his time as a physician, a profession for which he lacks both aptitude and enthusiasm.
The futures of both men will become bound up with those of the two sisters.As time passes the sisters overcome their adversities: May becomes the most sought after dressmaker in Paris; Carrie, the proprietor of the most successful hotel in Harrogate. Feeling spurned by Carrie, Alex pours himself obsessively into new railway projects.
Meanwhile, having been almost destroyed through gambling, drunkenness and self-loathing, Charles starts on the long and difficult road to redemption and fulfilment.Carrie and May have now been estranged for several years.
There seems little hope of reconciliation or of either of them or finding love and lasting happiness.
But this is 1848, the 'Year of Revolutions'. The streets of Paris erupt in bloody insurrection...while Alex Sinclair is commissioned to bring the railway to Harrogate.
Information
Format: Paperback
Pages: 448 pages
Publisher: Myrmidon Books Ltd
Publication Date: 04/04/2010
Category: Sagas
ISBN: 9781905802197
Free Home Delivery
on all orders
Pick up orders
from local bookshops
Reviews
Showing 1 - 1 of 1 reviews.
Review by AnnaMC
16/06/2015
I took Sally Zigmond's novel "Hope Against Hope" on holiday with me and was thoroughly entertained sitting in the sun, glass in hand, reading it with my feet up. I don't usually read novels in this genre - I'm going to call it historical romance - and was therefore reading it without preconception. I was pleasantly surprised at how much I enjoyed it once I got into it.There is no need to be afraid of a literary challenge if you read this. It is written in an easily accessible style, with a delightful and likable narrator and every description and account does the job clearly without ambiguity. I think the book would be greatly appreciated by many women readers who enjoy a touch of romance in the course of a wonderfully entertaining, easy to read, historically based drama.It is predominantly about the lives of two sisters, May and Carrie, during the ten years between 1837- 1847 as they emerge from early adolescence into young adulthood accompanied by a myriad of colourful characters and events, joy and heartache. I was impressed by the fact that all of the very fascinating and strong characters are women and the men generally feature as villains or spineless lapdogs. I also enjoyed the story as an uncommon account of Victorian social mobility, emerging middle classes and moral uncertainty. I'm always interested in settings which I think play as important a role as characters, and here the buildings and surroundings of Harrogate are brilliantly brought to life.It is a shame that in this first edition there are so very many typos. It gives the impression of being rushed into publication on a tight budget. After a while I just had to sigh and skip over the mistakes, but as I am a slow and careful reader every tiny error did jolt me momentarily out of the story.The captivating plot is well paced with twists and turns aplenty all satisfyingly resolved at the end. Characters are completely believable, well developed individuals all with a role to play in the intricately woven story. I could picture the whole thing as a really entertaining BBC mini series or even a Hollywood movie.