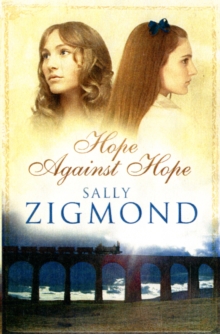 Hope Against Hope
Paperback / softback
Description
Stoical and industrious Carrie and carefree and vivacious May lose both home and livelihood when their Leeds pub is sold out from under them to make way for the coming of the railway.
They head for Harrogate to find work and lodging in the spa town's burgeoning hotel trade.
But the sisters fall prey to fraudsters and predators and are also driven apart by misunderstanding, pride and a mutual sense of betrayal and resentment.
May's fate is a high-class brothel from which her escape leads only to hunger in the slums of Paris.
Carrie becomes a virtual slave to the vicious hostess of a filthy boarding house and the victim of her vindictive son.Alex Sinclair, a bold and warm-spirited Scot, has eschewed the wishes of his father to become a railway engineer.
His companion, Charles Hammond is the dissolute heir to a vast fortune, withheld from him by an overbearing mother and grasping stepfather.
Charles bides his time as a physician, a profession for which he lacks both aptitude and enthusiasm.
The futures of both men will become bound up with those of the two sisters.As time passes the sisters overcome their adversities: May becomes the most sought after dressmaker in Paris; Carrie, the proprietor of the most successful hotel in Harrogate. Feeling spurned by Carrie, Alex pours himself obsessively into new railway projects.
Meanwhile, having been almost destroyed through gambling, drunkenness and self-loathing, Charles starts on the long and difficult road to redemption and fulfilment.Carrie and May have now been estranged for several years.
There seems little hope of reconciliation or of either of them or finding love and lasting happiness.
But this is 1848, the 'Year of Revolutions'. The streets of Paris erupt in bloody insurrection...while Alex Sinclair is commissioned to bring the railway to Harrogate.
Information
Format: Paperback / softback
Pages: 448 pages
Publisher: Myrmidon Books Ltd
Publication Date: 04/04/2010
Category: Sagas
ISBN: 9781905802197