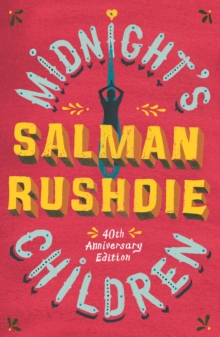 Midnight's Children
Paperback
Description
Born at the stroke of midnight at the exact moment of India's independence, Saleem Sinai is a special child.
However, this coincidence of birth has consequences he is not prepared for: telepathic powers connect him with 1,000 other 'midnight's children' all of whom are endowed with unusual gifts.
Inextricably linked to his nation, Saleem's story is a whirlwind of disasters and triumphs that mirrors the course of modern India at its most impossible and glorious.
Information
Format: Paperback
Pages: 672 pages
Publisher: Vintage Publishing
Publication Date: 01/05/2008
Category: Classic fiction (pre c 1945)
ISBN: 9780099511892
Other Formats
Paperback from £7.09
Hardback from £10.19
EPUB from £4.99
CD-Audio from £17.59
Free Home Delivery
on all orders
Pick up orders
from local bookshops
Reviews
Showing 1 - 5 of 6 reviews.
Previous | Next
Review by dylanwolf
16/06/2015
You can only wonder how an author goes on to write anything else after they have written their masterpiece. It has taken me a full month to read Rushdie's Midnight's Children but that is because I have been savouring every sentence. This book truly deserves it's Booker of Booker's award, not only for the excellent writing but also for the panoramic scope and vision of the undertaking. This book ranks alongside Marquez's A Hundred Years of Solitude as one of the most impressive state of the nation books I have read. The episodes sent me scuttling off to reference books to brush up on my knowledge of the history of India, Pakistan and Bangladesh but still kept me fully engaged in the mythological saga of Saleem and Midnight's Children. An impressive tour de force.
Review by Rynooo
16/06/2015
Try as I might, I could not bring myself to like this book. Twice I put it down and walked away, the second time writing and retracting what was, as I thought at the time, a prematurely vitriolic review.I figured perhaps I was missing the point; Midnight's Children would eventually deliver the goods. After all, amongst the needless drudgery there were sporadic moments of poetic clarity in which Rushdie imparts some truly beautiful storytelling. Third time lucky perhaps things would fall into place?Unfortunately not. My dislike spiralled with each eye-rollingly pointless chapter. Constantly infuriated by the overblown prose, inconsequential characters and hateful, self-obsessed protagonist, I struggled my way through to the end and it has left me feeling hollow.What it did achieve was an overbearing atmosphere of disappointment. Every character is lazily introduced in a matter of lines, each new and potentially interesting sub-plot is squanderously concluded in a matter of pages. Even the children at the heart of the book's title are under-utilised and essentially pointless.Midnight's Children promised much but as far as I'm concerned, did not deliver. While I can't say I hated it, I am at best indifferent.If you want poignant, relevant Indian fiction then read A Fine Balance by Rohinton Mistry, a book that, in my opinion, effortlessly achieves everything this novel does not.
Review by baggas
16/06/2015
After recently finishing Mistry's 'A Fine Balance' I planned to give myself a break from Indian lit for a while, but finding myself without a book on the other side of the country, the only books in the shop that called out to me were Indian - so I bought three!Midnight's children is regarded as a classic, and deservingly so. I cannot help but contrast it with 'A Fine Balance' which I so recently read. Both are brilliantly written, inspiring books that intricately intertwine with India's tumultuous history. Yet they are as different as night and day. Midnight's children, although similarly passing through some quite dark hours of history, does not have the deflating, depression quality that the other book has. If anything Rushdie's writing shows symptoms of the 'disease of optimism' that his characters and his country so often succumb to in the novel. Despite the flawed narrator Saleem's neverending series of mishaps and his sense of inevitable doom, I couldn't help but feeling upbeat throughout this novel.Part of what makes this book so interesting is that it combines history with fantasy. Not just in the usual sense of historical fiction, but in a more magical, mystical sense. I won't go into detail but this makes this book a delight to read. The first person narration is quirky, racing forwards and backwards and admittedly suffering from errors of memory and chronology but never too off-beat so as to get confusing (or rarely so).Yet another book I highly recommend. Look forward to reading more of Salman Rusdhie's work in the future.
Review by DLSmithies
16/06/2015
For the first 250 pages or so, I was loving this book - so colourful, such strong characters, such pace, so evocative of India (even though I've never been)! But then, I thought it sort of lost steam - and as I lost interest in the story, I started to notice that Rushdie's prose is irritating. And once I'd noticed, it got more and more annoying. He's constantly, on every other page, doing a quick recap of what's already happened and a foreshadow of what's to come - as though he think's you've got a woeful attention span and must have forgotten what you've only just read. And in constantly pointing out all the previous events that this new event mirrors, he saps much of the fun out of reading. For instance, you're denied the pleasure of noticing that women changing their names is a motif in the book, because Rushdie comes crashing in shouting OH LOOK, SHE'S CHANGED HER NAME JUST LIKE THESE THREE OTHERS BEFORE. And there's lots of interesting symbolism, but instead of leaving it to be found, he all but clubs you over the head with it. SO for the last 400 pages of this book, I was too frustrated to really enjoy myself. Booker of Bookers? Really? Not in my book, I'm afraid.
Review by BookMarkMe
16/06/2015
My feelings for Midnight's Children ebbed and flowed throughout my reading much as the tide. Akin to the piece of modern art adorning the wall of a local gallery, on first sight there is dislike and confusion, I cannot connect with the artist. What are they saying, what language are they speaking.Over time I move closer, I start to see the individual brush strokes that make the whole. I gain appreciation for each artistic stroke; in fact I've seen none better. No artist I've seen has such mastery of their palette subtly placed in each stroke. I step forward, the closer my nose to canvas, I become enthralled. I am part of the canvas; it's become part of me. I feel it, I smell it, I visualise it, it is India.Stepping back I again view the whole, the tide ebbs once more. I'm left with those impressions of close examination; the humour, the message beneath the message, the masterful stroke construction, the evocative taste of the underlying canvas and my introduction to magical realism.As I walk away though, there is no need to give it that lover's admiring over the shoulder glance. I appreciate its construction and the skill of the artist but don't connect with it. Art is very personal experience.