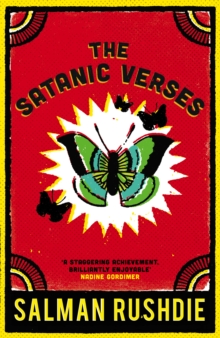 The Satanic Verses
Paperback
Information
Format: Paperback
Pages: 560 pages
Publisher: Consortium Inc
Publication Date: 01/03/1992
ISBN: 9780963270702
Free Home Delivery
on all orders
Pick up orders
from local bookshops
Reviews
Showing 1 - 2 of 2 reviews.
Review by siafl
16/06/2015
After two visits to the library and four renewals I abandoned trying to finish reading The Satanic Verses. At the time of abandonment I had yet to reach the halfway point.The book is packed with great moments of brilliance not unlike the kind produced by Gabriel Garcia Marquez, one of my favourite writers, which was why I decided to give Rushdie's work a try. It gets tiring, however, after a while, as if I've been visiting a long-winded grandpa full of interesting stories, but at the end of the day it's just time to shut my listening ears and return to reality.I must also admit that part of the reason I wanted to read The Satanic Verses was my curiosity as to how Rushdie managed to get himself into the kind of trouble he got with this book. Now as much contribution to the literary world as people seem to think this book has, I am not sure that it warrants the effort nor the consequences that has been suffered because of its existence.
Review by Eyejaybee
16/06/2015
An imaginative tour de force! I am too lamentably ignorant of Islam to know whether the book was indeed blasphemous, but simply as a novel it is fascinating. The novel opens with the two principal characters, Gibreel Farishta and Saladin Chamcha plunging earthwards having been thrown out of a jumbo jet that had been blown up by terrorists. Clutching each other they start to flap their arms, and are miraculously saved while all the other passengers are killed.Both of them start to undergo alarming physical changes. Gibreel Farishta, previously a leading Bollywood star, gradually takes on the angelic attributes of his angelic namesake while Saladin begins to turn into the standard perception of a devil.Meanwhile, interpolated throughout the book are various dreamlike episodes, presumably unwinding in Gibreel's tortured mind, which seem to mirror the life of the Prophet, here depicted as Mahound.In the background is the strange beautiful mountaineer Alleluila Cone with whom Gibreel is infatuated.I first read this novel shortly after it was published and before the fatwa was issued, and was immediately struck by the colour of the characters, the intricacy of the plot and the breadth of imagination. Those response still seem justified more than twenty years later.